Have you noticed a sudden increase in the number of hosting companies offering managed WordPress hosting service?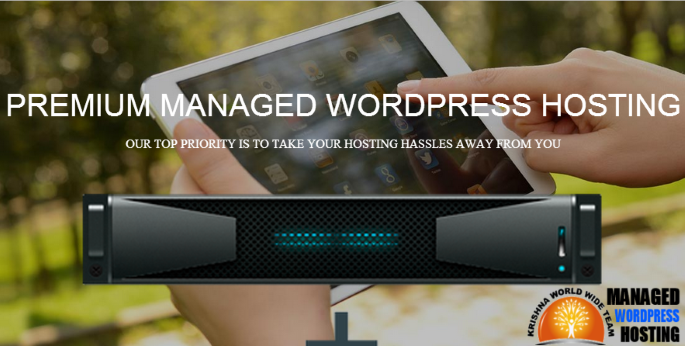 Last week, I was approached by two of my good friends asking me to recommend a reliable WordPress hosting company. Since they were just getting started, I recommended BlueHost to them as a good option for beginners.
However, these people seem to have done their homework before talking to me. So, they asked, "How about going for managed WordPress hosting offered by BlueHost?"
Now, that got my attention because if these people were allocating their budget for managed WordPress hosting service, I better take them seriously. If my company is offering managed WordPress hosting service, why should my friends think of somebody else, right?
So, I compared features that Krishna World Wide Hosting offers with other managed WordPress hosting offers by companies like BlueHost, GoDaddy, DreamHost etc. and then I compared their prices with that of ours.
Once I knew what my customers get versus what other people get when they go to these large companies, I felt very proud of the service offering by Krishna World Wide hosting team.
Managed Doesn't Necessarily Imply Fully Managed
When I looked at some of the top shared hosting providers and their managed WordPress hosting offers, it was clear that they want to capitalize on this popular term.
For example, here is how BlueHost offers their hosting packages (screenshot from their website.)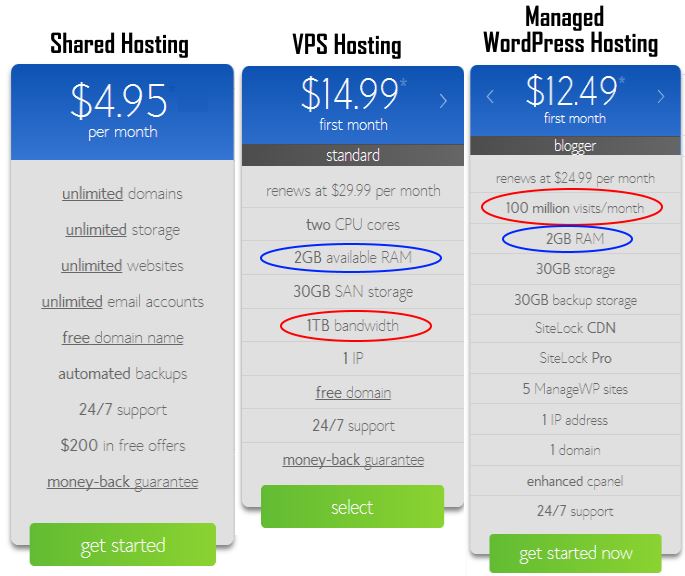 A lot of people will think that managed WordPress hosting with BlueHost means that they will take care of everything, from backup to security, to automatic plugin updates, to malware cleaning and so on. Unfortunately, once I look at the details, it doesn't seem like quite that deal.
To me, who is a technical person, it feels like getting a VPS account where I still need to personally take care of many things and use their 24/7 support, when I know what I want.
Pretty much the same deal is also being sold by other giants. However, none of these services can match what some of the premium service providers offer.
Our Krishna World Wide hosting service offering compares to that of WP Engine. They are way better than us and we strive to match their level of service and reliability to our customers with more flexibility while keeping the cost as low as possible.
On the other hand, while managed WordPress hosting offerings by shared hosting service providers has way less features, their charges are pretty high.
Fully Managed WordPress Hosting Should Offer Peace Of Mind
If you are going to pay $30 a month for a company to manage your WordPress installations for performance and security, you should know what you are going to get. Why throw away money?
Our mission, at Krishna World Wide, is to provide total peace of mind to our clients. We take care of every technical aspect of WordPress management in our hands. For example:
Our clients don't need to worry if their server is running out of memory or not.
They don't need to worry if their website got infected for any reason.
They don't need to worry about updating their plugins, themes or WordPress itself. We treat every website we host as our own.
We take care of performance optimization of every website we host, whether or not our customers even think about it.
We perform database maintenance tasks, cleaning activities, and security monitoring automatically for all websites we host.
In addition, our goal is to make our clients feel safe, feel secure and know that we have their back 24/7, every day of the year.
That's the level of service we provide as we take responsibility to host someone's websites on our servers.
If you are technically strong and you would like to do some development work, make some changes, get some new themes, play with CSS, we can give you a free of cost STAGING area to do your stuff while your live site remains unaffected.
All of this comes to our clients at a price which they would pay to these big companies anyway and yet not receive the level of service we offer.  More importantly, they experience the peace of mind that comes from knowing that their websites are managed by qualified WordPress experts.
VPS Hosting Or Managed WordPress Hosting?
Some people ask me if they should go for VPS hosting, or for managed hosting for their WordPress powered websites.
The answer to the question is actually not very difficult. VPS hosting, or dedicated server hosting, is like buying your own new home. Yes, it is big, it gives you way more control. However, furnishing it is your responsibility. Buying insurance, paying for utilities, fixing things from time to time – is all your responsibility.
VPS hosting is just like that. You get a new server. Yes, you get dedicated RAM (whatever you pay for,) dedicated hard disk etc. But, configuring your server for optimal performance, is your responsibility. If you don't know about performance optimization, which is the case with most people, you don't utilize the potential of your own server.
On the other hand, managed WordPress hosting is like renting a fully furnished studio. More or less, you spend the same amount of money as you would for VPS hosting. However, configuring the server, patching the server and all the WordPress created maintenance tasks are out of your way. You have an expert team dedicated to taking care of those things.
It is a matter of personal choice, logical analysis and business needs.
Managed hosting is good for people who don't like to spend time and energy in figuring out technological aspects of their WordPress, their site or the server where they host. They want to focus on their business and not sweat over technical stuff.
VPS hosting is useful to those who like to play with server configuration. It is for people who know a little bit about customizing servers for better performance or who want to use some special third-party services.
Do Your Homework Before You Make Your Decision
Do not be influenced by other people's opinions. There are a lot of people out there who recommend going for VPS hosting or dedicated hosting for optimal performance and peace of mind.
Well, if VPS hosting or dedicated server was the best deal in town, why would Neil Patel choose managed WordPress hosting with WP Engine for quicksprout.com? I am sure it costs him way more than having his own dedicated server. And he could hire an administrator to do everything for him. But, he prefers to give the responsibility to somebody who really knows WordPress and who can take care of his website while focusing on his business.
Those of you who know my story, I used to host with WP Engine as well. I moved out because my websites, themes etc. where not compatible with their environment. I did not have any desire to make changes on my websites to comply with their environment. So, their infrastructure limitations helped me not only move out but to start the Krishna World Wide managed WordPress hosting service.
You need to know your priorities. You need to know if your goal is to deal with technology and have self-control on every aspect of your website hosting.
If yes, more power to you. Go for VPS or dedicated server hosting. If not, don't waste time on shared hosting or worry about renting servers. Go for a fully managed WordPress hosting service provider of your choice (although I highly encourage you to check out our services.)
Do your homework and compare different service providers. Make sure that you get value for your money.
Your Turn To Share – Share Your Thoughts
When you think of managed WordPress hosting, what comes to your mind? If you have been hosting websites for a while, what are some of the most important services that should be covered by a good managed hosting service provider?
What kind of hosting services do you have at present for your websites? Please share your thoughts and experiences in the comments section below and add value.
Thank you kindly!