The need for an effective way to manage our goals on a daily basis is huge. Using an effective and managable To Do List for this purpose is necessary more today than ever, considering our hyper-active and busy, complex lifestyles.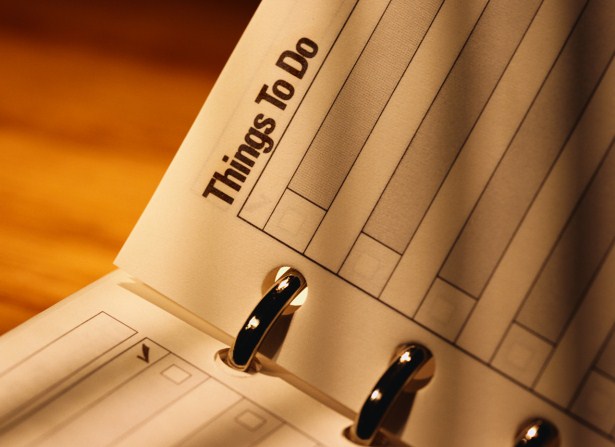 Our days are filled with distractions calling for our attention from all corners. Technology makes it possible for us to do multiple things simultaneously. However, it also creates ample opportunities for distractions to prevent us from achieving what is important, yet keeping us busy all day.
I've personally noticed that I can spend days working super hard, being busy all day and at the end wondering, "What did I really accomplish?" But I also know that this is not just me. Most people feel the same way when they do not plan their days.
I learnt the hard way, but I started to use a To Do List and it has been a tremendous help to me ever since.
To Do Lists Can Be Lifesaver At Times
I started to writing down the tasks I needed to complete during a week before the week began since I read "7 Habits Of Highly Effective People" by Dr. Stephen Covey. It brought my focus on what is important and what is not so important for me during the week ahead. I now realize tangible gains in my self-confidence and my ability to perform.
Since then, making a To Do List has been a habit that has proven to be a lifesaver for me. Many of my associates feel the same way when they do and feel frustrated when they don't. It's amazing how much more we get done when we just write what we need to do!
How To Write And Efficient To Do List
Now, writing the To Do List itself is a challenge just because most of us have a hard time writing our goals simply because the process of writing effective goals seems hard due to the number of books written on the topic.
But don't worry, your To Do List is not at all that difficult. It's not at all confusing. I remember Robin Sharma, in one of his talks said, "If you just do one important thing in a day, you will be amazed to see that you would have completed 365 important tasks at end of this year."
That's exactly what I prefer to do. I recommend that you do the same when you are preparing your To Do List. Here are the steps I recommend:
Write your To Do List every day for the next day, preferably at night.

Write down only the important tasks in your To Do List that you want to complete in a day.

Write down at least 2-3 important and doable tasks in every To Do List. (It is amazing how satisfied I feel in the evening when I've finished at least one important task for the day.)

If a task requires more than a day to complete, it needs to begin someday. Start it by putting on your To Do List of the day you want to start and keep it in the list for each day until completed.

At the end of each day, review your To Do List of that day and if some task couldn't be completed today, put it for tomorrow. Do not drop it from the list or ignore it.

Persist when the urge to avoid writing To Do List shows up during the first 90 days. When you do it for 90 days consistently, it becomes a habit.
How To Manage Your To Do List Effectively
I started with planning my week in advance using the methods Dr. Covey taught and created a weekly planning sheet template for myself. Writing provides me with clarity and therefore, I prefer to write down my dreams, goals and tasks.
Writing Down A To Do List – The Traditional Way
If you like to use my weekly planning template, download it now and let me know in the comments if you found it to be useful. [wpdm_file id=3]
It really helped me take care of my commitments at personal and professional levels for an entire week and I felt much better.
To make my weekly task lists even more manageable, I decided to break my weekly agenda into a daily To Do List that I could carry out each day.
I like to color code the tasks on my To Do List to ensure that the most important ones are separated and highlighted to stand out from those less important ones. I write the critical ones in RED, those with moderate importance in Yellow and those with least importance using normal black ink.
I carry the daily task list with me each day and follow through to review the tasks completed at the end of the day. It only takes about 10-15 minutes each night to prepare a quick To Do List for tomorrow and check them off as they get done. It has helped me get more organized about executing my weekly plans and accomplish even more.
Use Technology For Execution Efficiency
What better use of technology than your To Do List reminding you what you need to do today. Many of us are technology savvy already and prefer to use iPads, iPhones and other smart Android devices. The good news is, there are some awesome task management tools available for this purpose.
I personally use Wunderlist which is my favorite task management system and it does a tremendous job in assisting me prepare and execute my daily To Do Lists. I highly encourage you to check the features of Wunderlist and explore if it's for you.
While Wunderlist is not the only task management software out there, I do recommend a cloud based tool for managing your To Do Lists simply because you can access it anywhere on any device. With such a tool at your disposal, you have the following top benefits:
Your To Do List is in electronic form, so you can access anywhere at anytime.

You can categorize your To Do List items and set priorities

You can setup a schedule and a reminder for each item in your To Do List.

You can check the items off as you complete the tasks and they get archived

A good tool makes the To Do List management – fun! You love doing it!
Important – Do Not Let Your To Do List Rule Your Life
I like to plan my week, my day to make sure that I do not let a day go by without achieving something of importance. I write and manage a To Do List to make sure I do not miss out on the important tasks that need to be completed.
However, I do not let my daily life become an agenda. I do not let my To Do List rule my life. I only write things to be achieved in addition to the unwritten mundane tasks that I need to do anyway such as checking emails, updating Facebook and Twitter, taking my son to school etc. These tasks need to be taken care of anyway, whether or not there is a To Do List and therefore, I do not fill my list with such tasks.
The best way to consistently manage an effective To Do List is to understand that your life is bigger than a list of tasks. You must have ample free time often so you can attend to some unscheduled fun activities or some unexpected situations. This makes the whole process enjoyable and exciting.
Helpful Resources
Here are some helpful resources related to creating and executing your To Do Lists effectively. There are some books and some tools. I am sure you will enjoy these.
Books
Cloud Based Task Management Systems
Questions: How do you plan your days and your weeks? Do you use a To Do List to be more productive? If so, do you prefer to use the 'paper and pen' method or do you use an application to manage your task lists? Please share your experience and thoughts in the comments now by clicking here. Thank you kindly.