The secret to success, in almost every aspect of life, lies in our ability to influence the other people to help us achieve our goals. We know it, everybody knows it and that is why leaders are always hungry for knowledge in people skills.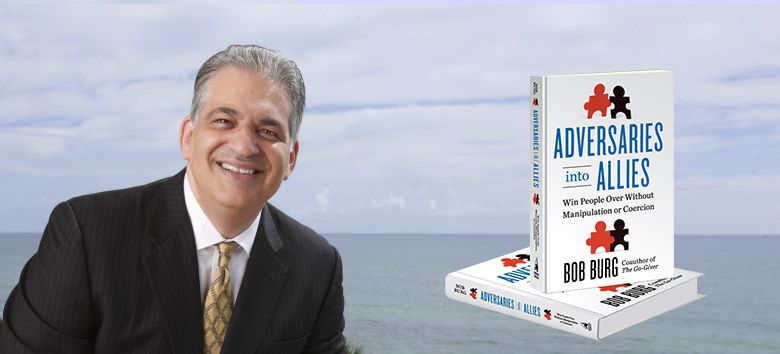 Book Website: http://www.adversariesintoallies.com/
In my quest to be able to develop my ability to get the results I want from other people while still making them feel genuinely good about themselves, I picked up the latest book from the bestselling author, Bob Burg, Adversaries Into Allies: Win People Over Without Manipulation or Coercion.
I always enjoy learning from Bob since I got my hands for the first time on his book "Winning Without Intimidation". Since then, I have read his other incredible books such as Endless Referrals and the Go Givers Sell More etc.
The great thing about Bob is, he exemplifies what he teaches and I have seen that through following him on social media, his teachings through his blog and other small interactions with him.
Turning adversaries into allies is an art Bob teaches tactfully in this new book with so many great examples and practical tips. I think that every entrepreneur, every business leader and anyone who aspires to be a leader at any level, should read and benefit from this book.
Turning Adversaries Into Allies – 5 Principles Of Ultimate Influence
The best thing about Bob's teaching is, he teaches through your own personal experiences and isn't that the best way to convey the message? It gives his book instant credibility and we know that he knows what he is talking about!
In this book, Bob shares a practical, seven-step well thought and well-presented outline to turn negative situations into a positive experiences dealing with people. In those seven sections, you find a tremendous amount of wisdom and practical tips with many examples to illustrate the point.
The text is so powerful, once you pick up the book, you wouldn't want to keep it down until done. It happened to me and it will happen to you – I am sure!
"The Ultimate Influence is your ability to get the results you want from others while making them feel genuinely good about themselves, about the process, and about you", says Bob in the very beginning of the book. I am completely sold out to this idea and that is why I kept the title around the motto of reading this terrific book!
Bob explains the five principles of Ultimate Influence spread across those seven sections and each section has multiple chapters within full of nuggets of wisdom. The five principles of Ultimate Influence Bob teaches through the book are:
Control your own emotions

Understand the clash of belief systems

Acknowledge their ego

Set the proper frame

Communicate with tact and empathy
As you go through the book, you will realize that in any personal interaction with another person where we desire to move them to do something they otherwise wouldn't do, you need to have an influence on them. And to have an influence on the other person, these are the five principles which you will need to employ and it works!
Although every chapter has great nuggets, I was absolutely amazed by the way he explains the method of controlling our anger. Now, why did I love that topic and the method the most? Well, because this is something I have to really work hard on controlling. This has been one of the challenge areas and although I have it under control much better today, I still have some work to do. When I read that chapter, I thought I already got my money's worth and what I learn next, will be just an added bonus!
Grab A Copy – Get This Knowledge Of Ultimate Influence
In the end, I would highly encourage you to get your hands on this awesome book and soak up the knowledge so you can benefit from the techniques and the principles Bob shares through his writing.
Visit Amazon.com to get more information and to grab your copy of Adversaries Into Allies: Win People Over Without Manipulation or Coercion.
More Resources
Bob Burg was recently interviewed by Dan Schawbel at Forbes.com where Bob answers a few great questions from Dan about the book and the principles of ultimate influence he teaches in this book. Find that interview here at Forbes.com. Check this out. I am sure you will love what Bob teaches in this interview.
Questions: Have you read this book yet? If yes, what is your favorite thing you learned from this book? If you are planning to buy this book, what is your motivation to buy this book and spend time reading it?
Kindly share your thoughts through your comments and add value. Thank you!