Bad habits are like a comfortable bed, easy to get into, but hard to get out of. ~Proverb [tweet this]
We all have habits, some 'good' that serve us well and some others that are limiting and in many cases – harmful (such as smoking, drinking etc.). Harmful habits are what we call 'bad habits' and desire to get rid of.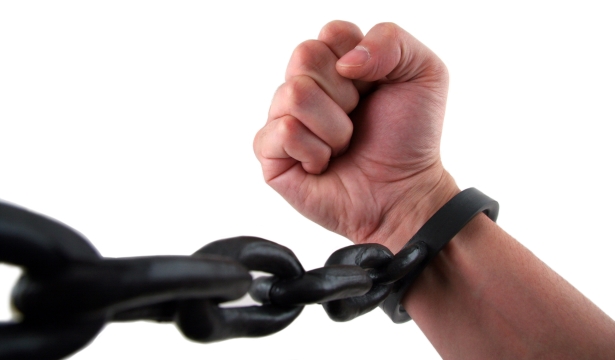 I've been using a powerful technique whenever I want to break out of a habit that I don't want to keep. I am going to share with you that technique today and hope that you may find it helpful as well. But first, let me share a 5-step method that many have used and found useful so you can choose what best suites your need and style:
Five Steps Of Eliminating Bad Habits
1. Recognize And Acknowledge The Bad Habit – Make Yourself Accountable
Recognizing the problem is the first step. Then if you tell people around you (only those you love, respect and trust) that you plan to stop a habit you don't like such as, smoking or getting angry on every little thing, it creates a sense of accountability.
If you make yourself accountable, you will feel a social pressure to keep up with your promise. You may also seek their support in doing so and they will, gladly.
2. List Down The Reasons For Changing The Habit
List why you want to get rid of a habit. Visualize your future in your mind; with the habit and without it. Where are you going with this habit and do you want go to that place? List all the reasons and all the bad stuff that happens if you continue with the habit. The more vivid the list, the more powerful it is. The stronger your why is, the more empowered you are to make a change.
3. Find A Substitute For The Habit
If you stop doing that one thing then it can leave a vacuum that requires attention. It's easier to not relapse if you replace that space with a new habit. For example, if you have a habit of watching TV for several hours in the evening, then replace that habit and space with reading more books or joining a club, sport or evening class.
4. Establish A Reward For Progress And Penalty For Slipping
Offer yourself a reward for achieving certain milestones. Plan to reward yourself with something like buying that new piece of clothing or going on that trip when you have successfully avoided the habit for 6 weeks, or something like that.
On the other hand, consider penalty for self if you stray off the plan. For example, you may plan to donate 100 dollars to a charity each day you smoked a cigarette.
5. Change Association And Learn From Those Who Have Gone Before You
Often bad habits are tied to specific environments or situations. Changing them can help change the habit. For example, if you always have a colleague who is your smoking buddy, try going for smoking alone or with someone else at a different time. Associating with those who have overcome the same challenge may also be very beneficial as you can learn from their experience.
Alternate Route – 2-Step Process Of Eliminating A Bad Habit
While all methods described above work and have their own value, here is an ultimate two-step process I found one of the books of Osho. The method is easy to follow and powerful enough to eliminate any bad habit from its root. In the book, Osho teaches how to quit smoking (one of the most difficult habits to quit). Here is how the method works:
Step-1: Become Fully Aware
Without trying to be conscious of your situation, if you try to drop a bad habit, its not possible to truly eliminate it. You may succeed temporarily, but it will come back, because your mind is the same; its needs are the same, its problems are the same, its anxieties, tensions are all the same.
You may have decided again and again, and you have failed again and again – not because the habit is so bad that you cannot get out of it, but because you are trying from the wrong end. You are using techniques to get rid of something that you don't even are fully in control of. It won't work!
Rather than trying to drop the habit, becoming aware of the whole situation, know what caused this habit, how it affects your attitude, how does it make you feel before and after, what impact it has on you physically and emotionally. Write them all down and review it.
Step-2: Watch, Feel And Enjoy The Habit In Complete Awareness – Every Time
Now that you are fully aware of your situation, the next and the most important step is to live the habit in full awareness – witness the phenomena, feel every bit of it consciously.
For example if you are a chain-smoker, Osho says, do not resist smoking. Just change the way you go smoking. Now onwards, smoke meditatively, very religiously. Each time you have the urge to smoke, feel proud, feel great, make it a ceremony. Here is how you may go smoking according to this method:
Go to a pleasant location, then, very slowly take a cigarette out – very slowly, as slowly as you can, because only if you take it very slowly will you be aware. Don't do it in a mechanical way, as you always do. There is no hurry. Feel the beauty and the smell of the cigarette… slowly. Then take the lighter out and slowly lit the cigarette. Now, start smoking very very slowly…
Feel every moment, watch the smoke as it goes out in the air… look at the beauty, watch each of your acts. Divide your acts into small fragments so you can move very slowly.
Osho says, "You will be surprised: by watching your smoking, slowly but surely smoking will become less and less. One day suddenly…it is gone. You have not made any effort to drop it; it has dropped of its own accord, because by becoming aware of a dead pattern, a routine, a mechanical habit, you have created, you have released, a new energy of consciousness in you. Only this energy can help you permanently, nothing else will."
My Conclusion
What I have discovered is, the method is not only so with smoking or just the bad habits. I have applied this technique and succeeded at changing some of my habits.
It is the same thing with everything else in life: don't try too hard to change yourself. Love the way you are, become aware of your being, enjoy every moment of your life and you will be amazed how easy it is to control what habits you want to keep and what you want no more.
Your Thoughts
What do you think of these two methods of breaking bad habits? Which method do you think is more efficient or easy to follow in eliminating bad habits? Please share your thoughts in the comments now.