My Personal Branding GPS eBook received a lot of appreciation from my readers and I am thankful to all who provided their feedback and asked questions. Your feedback makes a lot of difference in my ability to make positive changes and continue to improve myself and my ability to serve.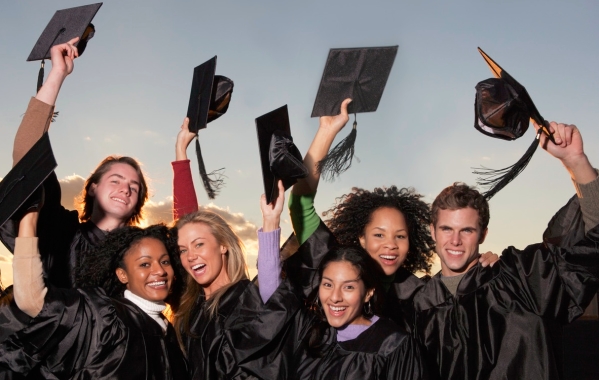 This post is for you if you are in one of the following categories:
You are just out of college with a college degree and looking forward to have a good, respectable job.

You know somebody with a new college degree looking for employment. In this case, you may be able to guide them.
Earning a college degree is a big deal with the amount of time, money and resources it takes. Once you graduate, the next logical step is to find a job where you can put that knowledge to work and build your career. Additionally, you might already be in doubt and fear if you did not get your employment confirmed through campus selection for any reason.
But worry never fixes anything. What you need to do is: build your confidence, improve your self-image and hit the job market – the right way! You can take control of your career and make it happen.
Although people still in school and colleges can and should follow these to get ahead in the game, these four steps are going to help you as a new college grad in your job search if you take action:
1. Self Assessment
Most grads (including those who get campus selections), do not pay much attention to this. They do not take time to find their strengths, their passion and the type of career they want to build. Then they get some job and in many such instances, end up doing the work they don't like. No wonder they feel frustrated later about their careers. This reminds me of this powerful quote from Lewis Carrol that says,
If you don't know where you are going, any road will get you there. [Tweet This]
Having a clear idea of your goals and skills gives you confidence and clarity in the type of job you want to search for. You need to perform a self assessment. For example, answer these questions:
What are my career goals?

What are the things I am good at?

What kind of work do I love?

What skills do I need to do my job well?

What is the career path I want to choose?
Please take time to answer these questions for yourself. This is critical to your career, both in the short-term and long-term.
2. Plan Of Action
Once you know your strengths, your skills and your career goals, it is equally important to have a plan of action. Your action plan should include the following two areas:
Plan to gain the skills identified as a result of your self assessment.

Plan of market research and a plan to market yourself to meet your career goals.
Remember, you need to get organized and work on your plan because if you don't do the work, the plan will not yield any results. Once you start working on gaining the skills, your market research will give you clarity on your personal marketing strategy.
3. Create Your Personal Brand
Many new grads may think that their chances of getting a job is slim just because they do not have much working experience that most companies are looking for. That assumption is not true since there are so many opportunties in the market for those who have positioned themselves properly.
Yes, the market is extremely competitive today, whether or not you are a fresh graduate or you have some experience. You need to position yourself better than your peers and that is why Personal Branding is so important.
The good news is, no matter who you are, your personal brand is completely in your control. You can do it and it can have a tremendous impact on your chances of landing a good job. Here are two simple things you can do right from this moment:
Build Strong Social Media Presence
Your resume no longer is a good enough representation of you. Today, the Google search on your name, your LinkedIn and Facebook profiles reveal a lot more about you than your resume.
If you don't have a fairly well written LinkedIn and Facebook profile, your professional presentation is weak. If you do not have a good social media presence, that is not necessarily a good thing for you. It actually may work against you because it might imply that you have something to hide or you are not open to new ideas.
Therefore, I would encourage you to have a good looking strong presence on Facebook, LinkedIn and Twitter. You do not have to be 'super active', but an active profile does increase your influence and sets you apart from the average Joe looking for 'a job'.
Own A Blog – Share Your Expertise Online
The experience counts because generally, the assumption is, people with experience have the knowledge required to do the job better. But, if you have the expertise, you can break that barrier and positively influence your job search results even if you are a fresh college grad.
It all starts with you making a decision to start your own blog to strengthen your brand value. To begin with, you can start blogging either at blogger.com or wordpress.com as these two services are not just highly valued by search engines, they are free as well. Register yourself for free, create a good website with a blog page and start sharing your expertise with the world. You may start blogging by solving problems that demonstrte your expertise in your industry, your domain of interest.
When you do that, you start establishing yourself as a 'go to person' in your industry. This can dramatically increase your chances of getting selected in job inerviews when you get the opportunity. This sets you apart from average job seeker. This approach has helped many across the industries and has many side benefits.
4. Networking With The Right People
Robert Kiyosaki says, "The richest people in the world look for and build networks while everyone else looks for work."
There couldn't be a more appropriate opportunity to practice this principle than at the beginning of your career. You worked hard to get that degree, you have the skills, you are building your online presence, you are blogging too. While all that is awesome, you also need to be careful about:
Who you are connected with on social networking platforms?

What kind of content are you sharing on these platforms?

Who are you interacting with on these platforms?
These are important aspects of your brand building. Be intentional about creating connections and networking with people who are successful and who can add value to your career goals in now and in future. Connecting with people from the industry of your interest, networking with people from the organizations where you would like to get an opportunity to work, and adding value to others by being helpful, you actually increase your own reputation.
If you network the right way, with the right people, it not only just increases your brand value, it can actually be a very powerful asset to you in your efforts to land a good job.
Question:
What challenges do you see for fresh college grads in the job market today?

How do you think they can face them and succeed?

What do you think of the steps discussed in this post?
Please add your thoughts in the comments.