If you have ever been in any of the situations below like I have many times, you will relate to me.
1. You are an entrepreneur, you need to build a list of names to grow your business and you wonder how these online marketers have thousands of people in their list.
2. You need to send a broadcast marketing emails to a big list of people frequently and next day and you wonder if you should send your emails individually to avoid being seen as spam or should you take the risk of mass emailing.
3. You had to send the same message to a lot of people and you wished there was a way to personalize your email to address each recipient without making them feel they were just spammed.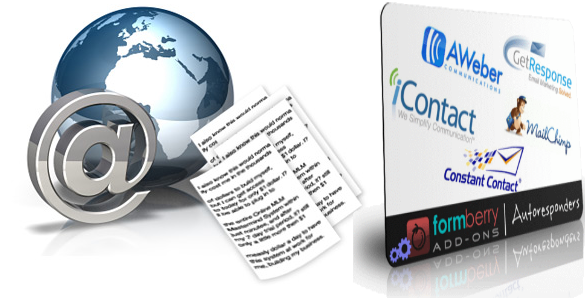 Well, the answer to all your questions is found in the Email Autoresponder Services! These are extremely valuable to keep your prospects, customers, vendors – your audience in general engaged and informed. It is a great way to keep your business in front of your target market even while you are away.
If you are any type of business, you can and should use an autoresponder service because it gives so much comfort to you when it comes to sending scheduled messages or timely response to your audience depending on your marketing strategy. Especially when you are a small business owner, a blogger, an internet marketer… or any other solo entrepreneur, an autoresponder is a blessing to have.
What Is An Email Autoresponder?
An autoresponder is a service that allows you to send emails to your list of people automatically as per your preferred schedule so once you set it up, the system takes care of the sending your emails. Autoresponders allow you to add people to your lists ( You may have multiple lists based on multiple criterias) and then schedules a series of emails based on your strategy to be sent to each list. It is just an awesome service!
When you choose to use an autoresponder, you create your emails and then determine which list will receive them and at what intervals. Once these are set up, you're ready to go and you won't have to do a thing but sit back and wait for them to do what they're supposed to do.
What Can The Email Autoresponders Be Used For?
Autoresponders can be used for various purposes and that really depends on your type of business or profession. For example, if you are a business, you may create an email set for your customers and then each week send them one email that talks about one of your products. When you share the information with them, they'll want to either find out more about it or they'll look to see what else you offer. You could get creative in creating emails by adding images, branding your emails with your company logo etc.
Autoresponders can also be used to distribute information such as blog posts in a much better presentable format to your subscribers or other important information that may help your customers. This works really well when you offer a service and want to gain the interest of your customers. You can create a set of autoresponders telling them how to do something and then at the end show them how you can make life easier when you do it for them.
Autoresponders give you the ability to build your list of names. If you are a business that needs to consistently add names to your list, an autoresponder service can really be very helpful. You can create compelling forms and use on your Facebook, Websites etc and they will consistently add names to your list for you – even while you are sleeping.
Which Email Autoresponder Service Should I Use?
There are a handful of good autoresponder services available today. Some are free and some are not. However, if you are serious about doing business, I wouldn't recommend using free service. For Business Owners, FREE option could be very COSTLY! Therefore, I am not going to discuss the free options here.
Now, here are some of the premium services for your reference:
By far the single most popular option for an autoresponder service that I've seen anywhere is Aweber. Snigdha and I, we use this service and are extremely happy with the features, the quality and the support of Aweber. Like everybody else says, we feel too that Aweber is the best in the lot.
They might seem a little expensive (since they charge $1 for the first month and then $19 per month after that for up to 500 subscribers) to some. However, if I have to spend my money on my business development, customer engagement and list building, wouldn't I use the best? Certainly, I will.
The second most popular autresponder service is Get Response. They offer a 250 person mailing list for $9.95 or a 1,000 person list for $18.00 per month and so on. They don't have as much integration with other services, however they do seem to be popular as well. They seem to be a reliable service that many bloggers seem to appreciate. You may try them.
Imnica Mail is a much cheaper option when compared to the above two options and therefore, they seem to be growing quickly. Imnica offers an amazing deal when compared with above two services. A 5000 person mailing list will cost you just $9 per month there that seems like a great deal if you are looking for a cheaper option when compared to Aweber or Get Response like services.
iContact is another popular Autoresponder service. Its prices are very competitive and worth considering as well. We can take a 30-day free trial to verify the email Autoresponder and newsletter service. They are reliable like Aweber and Get Response services and worth trying if you like to try them.
Constant Contact provides easy to use autoresponder service. They provide an email marketing service with a 60-day-free-trial with this email marketing service. Constant Contact also offers extra features like videos, images, blog content, Autoresponders, surveys and newsletters.
Growing your business and reaching your goals is what you strive to do each day and when you use autoresponders you'll find it'll be a little easier to get it done. They're easy to create and well worth the time and small financial investment when you have increased traffic to your site and more money coming in each day.
Question: Have you used any Autoresponder Service or do you plan to use some in near future? Which Autoresponder service do you think is your favorite and why?