Early in my childhood, I saw my Dad and the elders in my family stuck to the radio listening to the live commentary of the game for hours. Every time there was a cricket match, the old little radio in our home was the most important gadget in our home.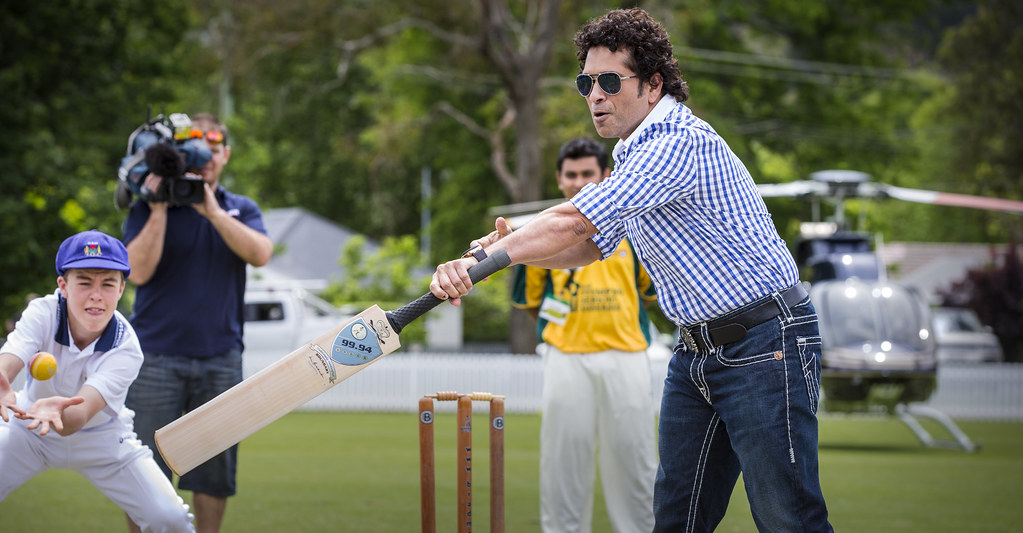 So, I learnt a lot about cricket and the players early on. But I didn't appreciate the game because whenever it happened, I would be deprived of the radio set for as long as the Cricket match was played, and to my dismay, it would usually go for 5 days.
My Affinity With Cricket Started With Sachin's Entry
However, my interest in Cricket rose in 1989 when I was still in school. I read a newspaper article about a 16 year old boy who was selected for the upcoming India-Pakistan cricket match and how everybody was excited about this new player, Sachin Tendulkar. I was impressed. I have been hooked to cricket since then!
Sachin, since then, began a journey of setting new standards in cricket. He practically dominated every bowler in the world and, in fact, he became a standard that every bowler was to be measured against. It was so much fun to watch him play when he was in his swing and the way other teams feared the little master on the field.
At the same time, it was heartbreaking to see him get out in an important game at a low score, or when he underplayed.
A Bit About The Little Master's Admirers
Known as the "Little Master" and the "Master Blaster", Sachin Tendulkar achieved the status of God in Cricket. Not just in India but people from around the world see him that way. It's amazing how much love and respect he commands from people all over the world. Here are a few quotes from a few well known people I think you will enjoy:
The pressure on me is nothing compared to Sachin Tendulkar. Sachin, like God, must never fail. The crowd always expects him to succeed and it is too much pressure on him. But, he rarely disappoints them. ~Mark Waugh [Former Australian Team Captain]
I have seen God, he bats at no. 4 for India.  ~Matthew Hayden [Former Australian cricketer]
Beneath the helmet, under that unruly curly hair, inside the cranium, there is something we don't know, something beyond scientific measure. Something that allows him to soar, to roam a territory of sport that, forget us, even those who are gifted enough to play alongside him cannot even fathom. When he goes out to bat, people switch on their TV sets and switch off their lives  ~BBC on Sachin
Sachin is a genius. I'm a mere mortal.   ~Brian Lara [The Legendary West Indies Batsman]
I am fortunate that I've to bowl at him only in the nets!   ~Anil Kumble [Third highest test wicket taker in the world]
Sachin Tendulkar has often reminded me of a veteran army colonel who has many medals on his chest to show how he has conquered bowlers all over the world.  ~Allan Donald [South African pace legend]
On a train from Shimla to Delhi, there was a halt at one of the stations. The train stopped by for few minutes as usual. Sachin was nearing a century, batting on 98. The passengers, railway officials, everyone on the train waited for Sachin to complete the century. This genius can stop time in India!    ~Peter Roebuck [Aussie journalist]
I can go on and on about the countless compliments people have given him and if you would like to read some more of these, please visit Wikipedia Quotes on Sachin Tendulakar.
The Retirement Of The Little Master
Sachin addressed his fans for the last time from his last test cricket match in Wankhede Stadium,  Mumbai and announced his retirement from all forms of cricket. In those 20 minutes of emotionally heavy talk, Sachin shared his journey's precious moments and what cricket meant to him. Here is the video for you to watch and hear the Little Master say good bye:
His retirement has created such an impact on the news media which is absolutely amazing to see. News media, TV channels and social media, are flooded with tributes to Sachin and cover stories. It is just incredible to see how a sports star can get such stardom where Time Magazine names him as the Person Of The Week and the Prime Minister's Office announced that Tendulkar would receive the Bharat Ratna, India's highest civilian award which makes Sachin the first sportsperson to receive the such an award of honor from the Government of India.
How Did Sachin Command Such A Stature?
There have been so many incredible players from many countries. There have been many batsmen from India and from around the world who impressed the world with their spectacular batting or bowling or both. Not once, but many times. But nobody achieved such a feat.
Yes, Tendulkar's stellar 24-year cricketing career boasts of innumerable records and milestones which would be hard to even approach. But, his fame comes not just because of his stunning records alone. I think he commands respect because of his personal conduct which makes him an example, a shining start which will inspire generations to come.
Most people admire the batting maestro for his extraordinary style of batting and they often compare him with others such as Australia's great Don Bradman or Viv Richards. But that is not why Sachin's fame went beyond anybody else we have ever seen in cricketing world.
Sachin is to be admired for another reason – the leadership, his ability to lead himself with discipline that is second to none. He demonstrated the highest degree of integrity in his character combined with his incredible ability to focus on his goals.
Leadership Lessons From The Life Of Sachin Tendulkar
Sachin's career and his way of life can inspire all of us and teach us a few lessons of leadership. From what I have known about Sachin over the last 24 years of watching him play and following his game, here are a few leadership lessons I would like to share which I think Sachin is the best living example of:
1. Have Focus On The Task At Hand
Sachin is known for his legendary focus and concentration at taking training. When there was a match to be played, he would work long hours to hone his skills well before the real game. For him, the match would start much earlier than the actual match.
When in the game, he would focus on the game and he wouldn't let his performance in the game impact his family life. He demonstrated an incredible ability to stay cool, calm and composed at all times.
2. Let Your Dreams And Goals Drive You
In his own words, "I always had a dream to play for India but I never let it put pressure on me."
The amount of pressure his fans would put on him every time he went to bat, was tremendous. Can you imagine living up to the expectations of over a billion people every day for 24 long years? Anybody would go crazy just to think about it. But not Sachin. He stayed cool, calm and composed when he amazed people with his spectacular show and his attitude didn't change when people complained that he should quit because he didn't play so good in a few matches.
He never let other people's expectations drive him. Instead, he kept small goals for himself and kept achieving them one after another.
3. Be Responsible – Do Not Let Success/Failure Get Into Your Head
It is easy to feel on top of the world when things are going great. There have been many other star players who even seemed more talented than Sachin for a while. But, as stardom came, they let their success get into their head and it ruined their careers.
But not Sachin. His humility, his consistent and persistent attitude led him through his spectacular 24-year career. Even though people called him God in cricket, he didn't even once let that distract him from his humble nature. He always stayed steady, no matter what. Probably that is the most important reason why people love him so much.
On the other hand, most people don't like to stand up and accept responsibility when things are not going as good as expected. Sachin Tendulkar is one leader who took responsibility when the Indian team didn't perform well during his captaincy. He faced a volley of criticism but never blamed anybody in the team or anyone else. He stepped down from captaincy and supported the next captain through his superb performance for the rest of his career in his usual style.
4. Accept Others At Their Level
In his own words, "Every individual has his own style, his own way of presenting himself on and off the field."
Sachin earned respect of his seniors, juniors and all his teammates through his exceptional ability to accept others at their level. He always encouraged his team members by showing his faith in their ability and as people close to him say, "He was able to help others on his team achieve their best."
5. Don't Criticize, Complain Or Condemn Others
There have been numerous moments in his batting career when he was dismissed unfairly when he was close to a milestone. Commentators criticized the decision of the umpires, media complained about it and, of course, we fans were mad!
But Sachin always maintained his gentlemanly attitude on the field and off. He never showed any sign of criticism of those decisions or anybody. It is one of the biggest leadership traits of great leaders, and Sachin has exemplified that for 24 years.
6. Have Your Own Standards, Lead By Example
When people would compare him (and they still do) with others like Don Bradman or Viv Richards, Sachin never participated in such discussions. He said, "I have never believed in comparisons, whether they are about different eras, players or coaches."
He set his own standards and kept raising them throughout his career. Did he struggle during the 24 years of his career? Absolutely. You can't have continuous success forever and Sachin had his own share of failures and disappointments.
But each time people complained and began saying he should probably retire, he came back and shut their mouth with his bat. After a while, people started to say that "in the form" and "out of form" are not the terms that apply to Sachin Tendulkar. He set his own standards and showed his tail lights for others to follow.
7. Do Not Make Major Decisions While In A Valley
It is one of the most critical aspects of leadership at the personal level. Most people (and even leaders sometimes) get intimidated when they are met with a series of failures and decide to quit.
But Sachin never let the valleys in his career become the decision making moments in his life. When he wasn't doing so well with his bat, he kept his patience, he maintained a low profile but kept fighting his fight until he bounced back from there. And when he did, the world watched.
If he had listened to his critics and given up on his career during his under-performing months, he would have become a failure. He rather decided to face the failure but not become one.
The announcement of his retirement came when he was doing well with his bat. But then, he knew that it's time to say good bye to cricket and gracefully retired with a magnificent show at Wankhede Stadium, Mumbai against the West Indies.
8. Be Grateful And Be Happy
If you watched Sachin's farewell speech, you know that he is a happy man inside out. He played this long for his love of cricket. He has a beautiful family with wife and two children for which he is so grateful.
The reason he was able to cope with all the pressure in the world for 24 long years through victories and defeats, is because he knew he is blessed. He is a man of tremendous faith in himself, his friends, his family and his well-wishers. Only a grateful man or woman can have such quality. People who know him closely, love him, support him and he is grateful for them being in his life.
9. Success Depends On Hard Work More Than Talent
Sachin has been known for his incredible batting techniques. His sharp mind, ability to grasp new techniques and adapt to changing cricketing conditions made him the Little Master. He definitely was a talented cricketer.
But so were so many others. If we look into the history, there have been players from other countries about whom, many experts said that they were better than Sachin. But they couldn't even play half the time Sachin played in international cricket.
Why is so? Probably because Sachin never took the game easy. He never stopped working hard while others did. When others were letting success get into their heads, he stayed consistent, continued to outwork them and finally, he outshined them (or they faded away naturally).
10. Treat Others The Way You Would Like To Be Treated
We can't stop talking about Sachin Tendulkar without talking about his humility one more time. The man lives his life by the Golden Principle and even for that, he gives credit to his father for teaching him the principle.
In his own words, "My father once told me, 'All things in life are temporary and everything has a deadline. But the only thing that will stay until your last breath is your nature. So you should always behave properly.' The biggest lesson I learnt from him was that he treated everyone equally, whether it was a big well-known writer or a sweeper."
Over To You – Share Your Thoughts
If you are here and you have known about Sachin Tendulkar and his achievements, what are your thoughts about the Master Blaster? What did you like the most about his career?
If this is your first introduction to Sachin Tendulkar, which of the leadership principles do you resonate with the most? Why do you think he would have become such a world's favorite sports star?
Please share your thoughts through your comments. I look forward to your thoughts, your inputs. Thank you kindly!