I haven't seen a person who doesn't want to be successful in something. Everybody has dreams, everybody wants to be known for something, recognized for something – to be a success at something! Yet, success is always a minority in every field, in every walk of life.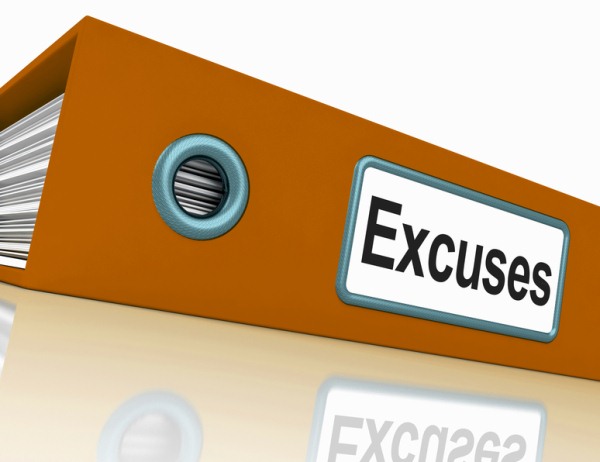 There are various reasons why people give up on their dreams at different stages of the journey. But those who do give up, always find an excuse to justify why they failed. In this post, however, let's discuss about top 5 excuses people give to justify why they failed to even embark on the journey:
Excuse #1: No Time – I Am Too Busy
"It is not enough to be busy. So are the ants. The question is: What are we busy about?" – Henry David Thoreau [tweet this]
Its saddening just to think of the person who says, "I am too busy to do anything for myself." Why would they be so busy doing things that are not leading in the direction of their dreams and goals and then ignoring the activities that may lead them to success?
Nobody has any more time than 24 hours, not even a second more. It is the only thing that is a level playing field for everyone – rich or poor, educated or not. Everybody has same amount of time available.
It is how we use our time that makes all the difference in the way we live. Time is a matter of priority and if somebody doesn't have time to do think about things that matter for their future, it's too bad.
Excuse #2: I Don't Have Enough Money
Whether it's about starting a new business, joining a gym or attending a personal development program – this is the common excuse among people who fail to take action.
I used to be the premium member of this club and looking back, it is interesting to note that the money I saved by cutting corners didn't stay with me either. It found one or the other way to slip away. Besides, what I realized is, people who don't have enough money to do things they would love to do, have generally programmed their minds to think that way. They put their mind to rest with this excuse in place.
On the other hand, the people with a strong sense of purpose, overcome the money challenge with their creativity of pushing their minds to think, "How can I arrange for enough money to get this done?" These people, generally get the arrangements done.
My mentor speaking on the topic of money said once:
"When it comes to money, you can always have a choice – you can make excuse, or you can make money." [tweet this]
I took the message to the heart and decided to get busy and make money. That one advise has been of tremendous value to me every day since then!
Excuse #3: It Is Too Risky
Life is full of risks. To step out of house to buy grocery is to take risk of getting hit by car. Does that mean we should lock ourselves in the house? What if the house catches fire? To walk is to risk falling down. How much risk can we avoid?
"The person who risks nothing, does nothing, has nothing, is nothing, and becomes nothing. He may avoid suffering and sorrow, but he simply cannot learn and feel and change and grow and love and live." ~ Leo F. Buscaglia
The people who look for safety in everything, are generally not respected, are not recognized for anything of significance. They do not live their true potential, they merely exist.
In life, the biggest risk is to not take any risk and my great friend Randy Gage published this incredible book, "Risky Is The New Safe" that can open your eyes to the truth if you have been playing safe so far. If you didn't have a chance to get a copy of the book yet, may be you should get it now.
Excuse #4: It Is Too Early / Late For Me
This excuse goes many ways. Some people make their age a reason for not taking action. Some are too old to do what they dream of achieving and others think they are too young to achieve such great things. The book "Magic Of Thinking Big" talks in depth about this disease that paralyzes many people even today where there are numerous examples of the people from all age groups have succeeded tremendously and have become an example for the world.
Others use this term to indicate that starting out now, may not be beneficial for them because they think it's too late in the game for them. Such excuses come generally from people who want to start a business or a new venture and they look at the competition and say, "It's too risky now because there is a tough competition in this field."
On the other hand, there are always those who take the opportunity, take action and pave their way to success cutting through the competition through their determination!
Excuse #5: Other People I Know, Couldn't Succeed
"There is only one thing that makes a dream impossible to achieve: the fear of failure." ~Paulo Coelho [tweet this]
This is an excuse mixed with fear of failure. People who give this excuse, assume their defeat because somebody else didn't succeed at the same thing. They think that their chances of success are also slim and therefore, why to even try… But the people who make this excuse, really do not follow the same rule for many other things in their own lives. For example:
They go to college on faith even though they can easily find many people who could never finish the college.

They go for job interviews on faith even if they know others coming out getting rejected from the same place.

They work hard at their jobs to earn and save enough to have a great retirement even though they have numerous examples of people who have retired from the similar jobs and now struggling financially.
Why don't they act bravely in these cases? Because they act on faith since the desire to succeed is bigger than the fear of failure due to the programming from childhood. They believe that they can do things differently and may be they will have a better chance than those who didn't make it. That is a great way to think and a choice to make!
However, shouldn't that principle also be applied when it comes to pursuing their own dreams and goals such as losing weight, starting a business, becoming a person of influence, writing a book or whatever it may be?
Question: Do you know somebody who has failed to take the opportunity because of one or more of these excuses? Are there any other excuses people make that you believe can also be detrimental to success? Please share them in the comments so I can learn from your experience as well.