Efficient website setup requires an efficient website hosting server. I realized it only after I struggled for a while. I remember struggling to identify a better website hosting company when my pages used to take about 20 seconds and more to load.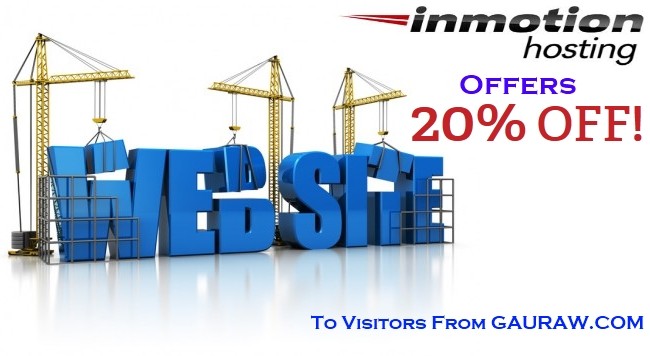 During those days, I had hosted all my websites with GoDaddy, not knowing any better option.
Among many good choices, I had not considered InMotion Hosting as a viable option yet because there were not too many people talking about it.
I still didn't switch to BlueHost, even though they have great reputation, because I wanted to find out if there could be anything better. I wasn't going to make the move until I was absolutely sure that it was the best option for me.
[note background="#FFCC00″] Check out how to install and setup your own self-hosted WordPress blog by yourself in minutes. In that post, you will also find other web hosting companies popular for providing excellent WordPress hosting service. [/note]
There are so many web hosting review websites around. So many bloggers have written reviews and compared one shared WordPress hosting with another. Just the review information available on the internet is almost overwhelming.
But I didn't find many reviews that spoke about the best web hosting company from a business standpoint. Most of the reviews are technical in nature. Majority of web hosting reviews and comparison available online are around these specifications:
How many domains supported?

How many MySQL databases?

How much space is allocated?

How many shopping carts?

How many email addresses?
…etc.
Well, these are important specifications for sure. But these do not explain to me what I need to know as a business owner. It doesn't help me make my decision, and most business owners don't know how these things work. So, these reviews didn't help me much at all.
Evaluation Based On Website Setup Needs
I decided to do my research based on my business needs and not just based on technical specifications that everybody else is talking about.
I came up with a few important business metrics to choose a good web hosting company for my long term needs. I started to research on websites that were hosted with different web hosts in my own network and compare them.
Web Page Load Speed
With the current trend, where the loading time of your web pages affects how Google ranks you, it is important to make sure that the infrastructure of the web servers is cutting edge. It was the most important thing in my mind when I was doing my research. So, here is what I did.
I took a few websites hosted on InMotion Hosting servers and a few other top companies servers and ran a page load test using WebPageTest.Org testing tool.
The beauty with WebPageTest.Org is that it shows the First Byte Time which really means how much time the server took to return the first byte since the request was sent to it. Even if you are using a CDN (Content Delivery Network) service, the First Byte Time is still the time your web hosting server took to respond.
Apparently, the websites hosted on InMotion Hosting servers had the least First Byte Time as compared to any other web host. This itself was a good enough reason for me to pick them up as my choice.
Daily Backup Of Hosted Websites
As a business owner, you want to make sure that your website and data is backed up regularly. Many web hosting companies do not even take a regular backup of your websites or discourage you from relying on their backups.
When I did my research, I found out that InMotion Hosting does take a daily backup of your shared account on a 24-36 hour basis. If something goes wrong with your website, you can request a restoration and they will gladly help you out.
I wasn't very sure if I was ever going to need it. But when the WordPress version 3.5.1 was released, I did something wrong and corrupted my website's database.
At that time, I really needed to restore my website to the previous night's state and thanks to InMotion Hosting team, I had my website restored in less than 4 hours' time!
Having a daily backup like the one they take for your website, can be a blessing when you really need it.
Solution For Growing Web Hosting Needs
The reason I came across InMotion Hosting in the first place was that I was looking for a good VPS hosting company.
I wasn't convinced that shared WordPress hosting was a good choice for my web hosting needs, so I was looking for a more robust solution. Being awarded as the best VPS solution provider by many ranking services, they drew my attention and then I saw that they also offer Business Class shared hosting accounts as well.
It made absolutely perfect sense for me to sign-up for their business class hosting and try out their service for 90 days and then decide if that was a good fit for my web hosting needs or not. I signed up and I have been happily on that plan since, saving a lot of money that would have otherwise gone into VPS hosting.
But guess what? When my traffic grows through the roof and my website needs a VPS or even a dedicated server, I don't need to go to another company. I can just make a phone call and move from the shared environment to the new service without worrying about anything. How comfortable is that?
Courteous Customer Support
I think this is one of the most important aspects that most businesses hurt themselves by ignoring. There are companies that have really great hosting facilities and they take care of a lot of headaches for your website maintenance. But they have no phone support. To me, that is a NO NO!
Recently, I was helping a friend in setting up his business website and we needed to talk to his web hosting company. At the end of the conversation, my friend was not very happy with the conversation he had with this customer service person and decided to cancel his account.
On the other hand, InMotion Hosting has one of the most courteous customer support staff who really enjoy helping their customers. Every time I've engaged them in solving a problem, I have always enjoyed the way they go out of their way to help me resolve the issue.
Especially since I joined their affiliate program, I have really felt the difference between their support and other web hosting companies when it comes to courtesy and professionalism.
Special Discount For Gauraw.Com Readers!
If you are looking for a great website hosting service provider on budget, InMotion Hosting is undoubtedly your choice. They provide business class shared hosting service which is just perfect for your business website setup.
Usually InMotion Hosting doesn't offer too many discounts and coupons. However, as an affiliate partner with InMotion Hosting, I've negotiated an awesome discount for you with help of Maria (affiliate account manager) who gracefully agreed to apply 20% discount to your shared account hosting purchases when you go through my referral links.

As my website visitor, all you have to do is, click on any of the InMotion Hosting Links from my website and avail 20% discount when you secure your shared hosting account.
Over To You For Your Thoughts
Do you think this type of review based on my personal experience has helped you understand what is important to look for when choosing a website hosting company from a business standpoint? Do you have a question or two about website hosting that stops most people from making a decision while looking to get their web hosting account?
Please share your thoughts/questions in the comments or click here. Thank you kindly!