When you think branding, do you think of a logo, an advertisement on TV, radio or on the internet? You are not alone if you do that because branding is yet another misinterpreted and misunderstood  word.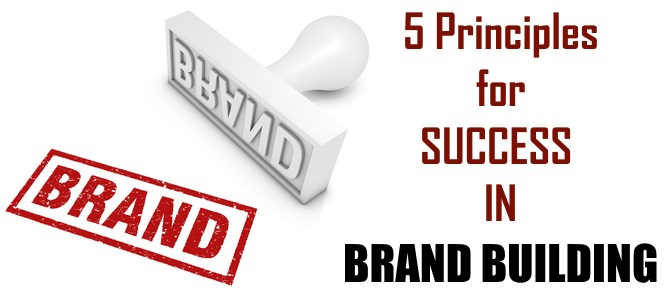 Branding is usually identified with the practice of putting a symbol on a thing to indicate ownership. Companies have used their logos on the products they sell and campaigned to imprint their logs in people's minds.
Do You Need A Logo For Personal Branding?
Recently, a gentleman sent me a review of my blog design and proposed that he could give me a better design and a better navigation for about $500.
Well, he should have known that I undertake web designing projects myself and I have been doing that work for a while now. Had he taken time to go to my profile, he would have figured that out. But, that is a different issue for another time.
In his remarks, he was pleased that I have a logo on my website – good for branding.
About that, I am still not sure if that is really a good thing, although a lot of Internet marketers promote the concept of having a logo.
I had created my logo without thinking that I am creating one. It just felt nice to me to put my initials and some styling around it before my name. It wasn't a strategy planned logo design. It just looks nice and I kept it. That's about it!
As I see it, for your personal branding, your headshot is unique and that is what people should remember when they think of your name, not your logo. Your headshot is the best image you can ever have to associate with your name. You don't need a logo for personal branding.
A Little About Brand Building Practice
In the early days, ranchers used to put a unique mark on their cattle to indicate their ownership. Essentially, the same practice was later adopted by companies and it became a branding practice. They developed their logos and put them on their products. Over time, as the practice matured, they worked hard to develop compelling logos and started associating meaning with the design, and so on.
Technically, that brand building practice is still going strong. However, it's no longer enough to convince the market of your brand identity. Today, a logo, an advertising campaign, and clever marketing techniques are not good enough to build a successful brand identity.
Today, a company's brand identity is driven by more than one factor. It's almost like a company culture. If you have a personal brand, it is more indicative of you as a person, of your behavior, of your thought processes. Branding is more comprehensive today than it has ever been.
5 Principles To Follow For Successful Brand Building
Let's touch upon some of the most important branding principles that most successful brands follow.  Let's also discuss why they are so important.
1. Identify Your Core Values
It is very important to define the core values of the brand identity you are trying to develop. Why is it so  important?
As an organization, it is very important for people involved to know about those values. Only with that understanding, your people can embrace the culture of your brand and operate in a way that is in alignment with your brand identity.
The idea is to focus on what you do best. Then make sure everybody in your organization is  able to communicate that message in a consistent manner. Your organizational culture should reflect your brand vision, mission and core values.
2. Define Your Target Market
Your brand needs a specific target market. When you appeal to everybody, you attract nobody. That is not a good situation to be in as an organization, as a company, or as an entrepreneur.
You need to know your ideal customer. You need to have a plan; a strategy to attract your ideal customer to you. Your branding efforts should go in the direction of attracting customers to that profile.
When you do this, you attract other people. But narrowing down the focus on the target market also helps your brand identity become more visible.
If you know Amy Porterfield, you also know that she is one of the foremost Facebook experts in the world. Amy narrowed her focus to target businesses that were only interested in Facebook marketing. It established her way faster than some others who branded themselves as social media marketing experts.
Do you think Amy also knows Twitter and LinkedIn and Pinterest? I am sure she does. But, it was a smart marketing strategy to establish herself in one market and build a strong brand identity. She succeeded!
3. Stay Consistent With Your Brand's Message
Consistency is the key. It is very important that you communicate the core values and message of your brand. Whether through your actions or the actions of those who work with you, it must be consistent… everyday, everywhere.
That also means you need to have a plan in place so that you achieve consistency.
If your brand vision keeps changing every few days or every few months, it becomes hard for the market to understand your brand. That is why it is so important to pay really good attention to the points above.
4. Leverage All Form Of Media
I have spoken about this before and I want to reiterate. Along with having a great product, a great business model, and great people in your organization, it is equally important to promote yourself everywhere.
Companies have leveraged paper media ,TV, radio and internet – all forms of marketing to establish themselves. That principle doesn't change.
However, if you are a small business owner and you have budget constraint, you can still leverage the most powerful media available to the common man today – the Internet.
You can use social media platforms like Facebook, Twitter, Google+, Pinterest, and so on, for text and image based marketing. You can also use podcasting platforms for audio marketing and channels like YouTube  and Vimeo etc. for video marketing. All of these come to you at a very minimum cost if you don't have technical skills. Can it get any better?
5. Pay Attention To The Smallest Details
A culture isn't developed and practiced through management talks at the top. The culture within the company is reflected through what happens at the ground level.
Southwest airlines is one of the finest examples of excellence at every level within an organization. If you have traveled Southwest airline, have you noticed how happy the crew is while doing their jobs? They board faster, they fly on time and land on time while keeping a genuine smile on their face. They look like they are really having fun while doing their jobs.
On the contrary, look at some of the pricier airlines and the kind of treatment you get. The crew never smiles, they don't fly on time and, more than anything else, they make you feel as if they are doing you a favor by having you on board.
They are able to achieve that level of consistency in excellence because the company spends time and money in making sure that their mission, their vision and the core values are ingrained in their employees. They connect their employees with the purpose at every level.
The companies who do not pay attention to small details, make unhappy customers, unhappy employees, and an unhealthy brand identity in the marketplace.
Speaking of Southwest, I wanted to share a video here to show you how they connect their employees with their purpose. Imagine the impact when a new employee joining Southwest watches this video. Would they be a little more proud of their company, their brand? Check this out!

Your Turn – Share Your Thoughts Now
Can you think of any other important principle that should also be included for a successful brand building for any entrepreneur or company? Please share what your thoughts are through your comments and add value. Thank you kindly!