Who doesn't want to be successful in their endeavor? Every entrepreneur wants success and if you are like me, you also want it as of yesterday.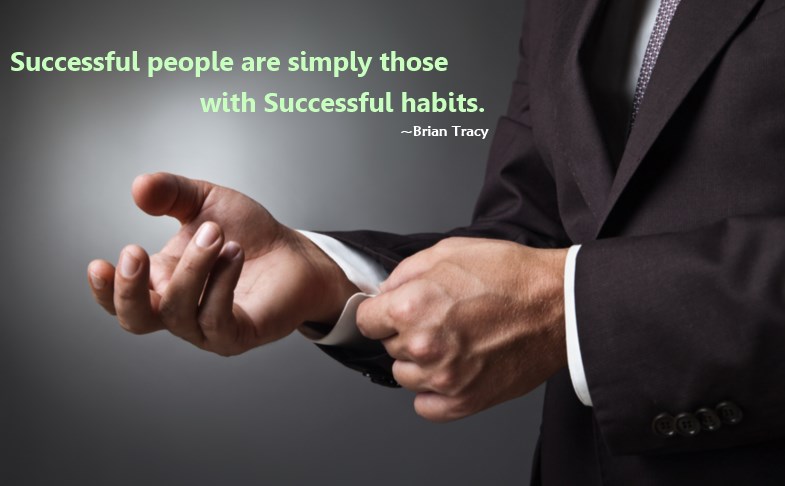 Since starting my journey of entrepreneurship, I have studied success stories of many extraordinary entrepreneurs (Rich Devos, Sam Walton, Steve Jobs etc.), successful sports personalities (John Wooden, Tom Landry etc.) and some extremely successful bloggers (Darren Rowse, Michael Hyatt, Neil Patel etc.) and learned tremendous motivation.
I have mentioned on several occasions that I continue to attend many success seminars and workshops regularly as I continue to learn and grow. Seminars and workshops are definitely my favorite because of the power of association which makes a huge difference in our mindset!
Why A Few Succeed While Many More Stay Mediocre
But one thing I noticed through my experience is, I am not the only one who attends such seminars and conferences. There are people who spend way more money than I do on books, seminars and workshops every year. There are also those who seem to work very hard and yet they don't see the success they desire.
I notice the same thing in blogosphere. There are bloggers who are doing extremely well and then there are those who don't see the light of the day. At the time when my blog was just a new kid on the block, I used to admire a few bloggers who had a good size blog with a decent traffic and today, they don't seem to get anywhere.
In fact, there are bloggers who started around the same time I started and then there were those who started because they drew their inspiration from my passion. Well, many of them have disappeared while some of them don't even have any traffic.
The question is, why do some people succeed while many more either fail or stay mediocre when it comes to entrepreneurship? Why is it true in virtually every industry, in every field?
9 Characteristics That Make The Difference
There are 9 characteristics that are common among all successful entrepreneurs and the thing is, these are not mutually exclusive. All the successful entrepreneurs I know and associate with (and learn from) are particularly very meticulous about all these and no wonder they enjoy the success they have.
I hope you will find these traits useful in your endeavors. If you would like to add your thoughts or share your testimonials, please use the comment section at the end of this post to have your say.
1. They Always Have A Plan
If you fail to plan, you are planning to fail. ~ Benjamin Franklin [tweet this]
Successful people know where they're going and more importantly, why they are going where they are going. They set up a plan and then stay the course with slight adjustments (as the situation demands) as they move forward.
It's amazing how many people have told me that they don't take any new year resolutions because resolutions don't work. Well, my question to them is, how will you even know what worked at the end of the year if you don't even know what you want to do?
People who achieve, do not fear failure, they do not get derailed by temporary setbacks. They have a goal, they have a game plan and they move forward.
2. They Are Hard Working
Honestly, there's no way around it; it takes work to be successful. People who are extraordinary achievers work hard. Significant success is never achieved by being in the comfortable, and therefore, it requires a lot of time out in the field (or 'online' for an online entrepreneur) doing what must be done.
High achievers put serious time into daily planning their work, getting their creative juices flowing, strategizing and then executing those plans. They don't waste productive time in unproductive things (e.g. browsing news, entertainment and chatting etc.)
3. They Have Passion For Their Craft
Hard work for a prolonged period of time is hard to do if there is no passion for your craft. There are days when I am creating my next blog post and it's 3 AM in the morning. Even at that time I don't feel I am overworked. I know a few friends who work very hard in their jobs when the situation demands it and they feel very proud of it.
The reason that happens is because we are passionate about what we do. We do the work we do because we love what we do! High achievers never feel they are working hard because they are working out of their passion. Where there is passion, work seems trivial and that is why passion is so important!
4. They Are Self-Motivated
A major challenge of entrepreneurship is, you have no boss especially while you are a small enterprise where your customer base is also small. You have no one to tell you what to do, no one to fire you if you don't do what you are supposed to do. I mean, it is a difficult situation for many people.
However, all successful entrepreneurs I know are self-motivated and they remain that way every day of their life. Once they know what needs to be done, they just keep on keeping on come what may! They have the passion (which drives them for sure) for their craft, they know their 'why' and they just do what must be done.
5. They Are Risk Takers
Successful entrepreneurs know that success requires courage to step out of the comfort zone, be creative, take chances that others don't dare to take. That is why success people are risk takers.
People who play it safe, who don't want to take risk – don't go very far because they never challenge themselves. They let their fears control their lives and they choose to remain average.
For example, to write a book, to start a new website, to venture into a new business, requires courage because you risk not succeeding if things don't go the way you planned originally. But if you don't take the chances, what are your chances of success anyway?
All successful entrepreneurs understand that and they are always willing to take chances to pay the price of success they desire.
6. They Respect Time
Time is money and no one values time more than those who are successful and perhaps that's one of the most important reason for their success.
Successful entrepreneurs use their time wisely and respect other people's time with the same sincerity. They communicate things precisely, quickly get to the point, and move on.
They keep their phone calls short, don't waste time browsing the internet, watching entertainment or the news. They don't waste their time on checking emails and responding to them. Most have their assistant do the job of email management.
This allows successful entrepreneurs to have more time for creativity, strategic planning and business growth. For example, look at bloggers who are doing extremely well. You will not find them wasting time. They are rather busy creating new product, publishing new content, learning new stuff or marketing. They are always in the creative zone!
7. They Stay In The Basics
High achievers do not take their eyes off of the ground. They never forget the basics and never fail to look at their performance and that of their team regularly.
Successful entrepreneurs study their statistics often so that they can know what is happening in their business such as:
Is business progressing?

Are customers happy?

Are new customers coming?

How is morale in the organization?

How are marketing campaigns performing?
.etc.
Based on such statistics, they make adjustments in their strategy and mobilize their team in the right direction.
8. They Are Always Excited About Gaining Knowledge
You will be the same person in five years as you are today except for the people you meet and the books you read. ~C.T. Jones [tweet this]
Successful entrepreneurs know that if you keep doing the same thing, you will keep getting the same results. Therefore, they keep themselves humble and keep learning so the new knowledge can help them propel towards the next level of success.
I was recently amazed again by a recent post from Michael Hyatt who came back from another Tony Robin's workshop and shared with us what he learnt. He is one of those who inspires me with his work ethic and passion for business. And he is a great example of those who are always in the habit of learning just a little bit more every day!
If you want to stay ahead in your business, you need to keep learning, you must keep growing. If you are a blogger and you want to take your online business to the next level, you'll have to humble yourself and learn from those who are making it big at every opportunity you get.
9. They Persist In The Face Of Challenges
Successful people make right decisions early and manage those decisions daily. ~John Maxwell [tweet this]
Successful entrepreneurs don't keep looking for the next shiny objects every now and then. They know that there is no short cut to success and it will always take work. So, the reason they succeed in everything they do, is because they get started and stay the course.
Successful people do not quit when faced with a few setbacks. Instead, they persist, they learn from their mistakes, correct their course and keep moving. It's their consistency in being persistent that makes them different from those who keep looking for the next big thing and never make it big in anything.
When things don't seem to work for you, do you quit and start something new or learn from your mistakes, fix the issues and persist?
Your Turn – Share Your Wisdom
I know the more we study different successful entrepreneurs, the more we find and also, you may have an attribute for successful people which I have not yet listed. Would like to add an item or two to this list?
Please feel free to suggest through your comments as I am always looking forward to learning from your wisdom. Thank you kindly!