Alexa Rank is the second most discussed rank by webmasters, especially in the blogging community, after Google's Page Rank. Alexa Rank plays an important role in many aspects for your websites and we are going to discuss this in detail today.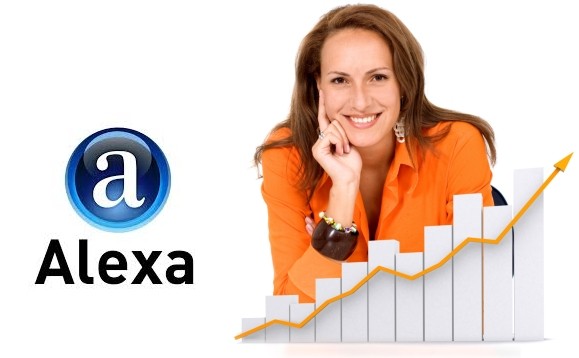 The interesting thing to note here is, neither Google Page Rank nor Alexa Rank is the true indicator of your real traffic. I've seen websites with Google Page Rank of 1 having much more traffic than those with Google Page Rank 3.
Similarly, Alexa traffic rank is not a true indicator of your website's real traffic either, although it is a better indicator than Google Page Rank in many aspects.
What Is Alexa Rank?
Alexa is a web information company dedicated to delivering relevant information that is essential to a vital web experience in a timely manner.
Alexa collects information about websites, including statistics, Related Links, and more for every website that comes to its notice. They rank websites based on their daily traffic, links and a few other factors. The higher your website is ranked, the better for your reputation. For example, Google.com has a Alexa Rank of #1.
How Is Alexa Rank Calculated?
Alexa Rank gets updated on a regular basis. They update their ranks almost daily for every website they rank based on their algorithm that isn't very friendly.
Alexa ranking algorithm is designed in such a way that it only counts those hits to a website that pass through their system. That means they only count those visitors to your website who have installed Alexa toolbar in their browsers (Or, the websites that have an Alexa widget on their pages).
That simply means Alexa Traffic Rank (same as Alexa Rank) really doesn't indicate the real traffic to your website. It only reports your traffic rank based on the number of people who have Alexa toolbars. This may just be a fraction of your overall website traffic.
Does Alexa Rank Matter?
Your Alexa Rank has no impact on your website's search engine ranking. Search engines do not worry about your website's Alexa Traffic Rank in their algorithms. Therefore, from a web traffic standpoint you don't need to worry about Alexa Rank.
For monetizing your website using Google's AdSense or text advertising using text links, you don't need to worry about Alexa Traffic Rank. It doesn't play any important role in your earnings using these methods.
However, you need to worry about your website's Alexa Traffic Rank in following two situations:
Advertisers check your Alexa Rank before choosing to work with you. So, if you want to attract more advertisers to your blog and earn more, you need a good Alexa Rank.

Usually bloggers feel compelled to leave a comment on a blog with a good Alexa Traffic Rank. So, if you want to attract more people to comment on your blog, your website's Alexa Traffic Rank is important.
How To Improve Alexa Rank For Your Website
There are several steps you can take to improve the Alexa ranking of your website. Let's review some of them to improve your website's position in Alexa's ranking system without hiring a SEO company:
1. Add Alexa Toolbar To Your Browsers
The more visitors that have the Alexa Toolbar on their browsers, the better Alexa rank your website will have. So, it may be a good idea to not only install Alexa toolbar to your browser, but also ask your friends, family members and your loyal website visitors to install this toolbar on their browser.
Download Alexa Toolbar for your browser now and start improving your website's Alexa rank right away!
2. Claim Your Website On Alexa
It just makes sense to claim your website on Alexa whether or not you are interested in the benefits of Alexa rank. At the same time, claiming your site is one of the first steps to start strengthening its Alexa traffic rank.
There are two ways to claim your website on Alexa:
Claiming Your WordPress Websites On Alexa
If you've a WordPress Website, you should download the Alexa Claim and Certify plugin. Once installed, activate the plugin and then click on the plugin's settings to claim your site.
The plugin settings will guide you step by step to claim your site on Alexa's website. As you follow the steps, you will receive a verification ID that you will insert in the text field provided on the plugin's settings page.
Now you click the verify my ID button to complete the process.
Claiming Your Non-WordPress Website On Alexa
For sites that are not built on the WordPress platform, you will need to enter the verification ID in the HTML head section of your home page.
You still need to claim your website on Alexa to get your verification ID by visiting Alexa.com website and creating a new account. If you already have an account, then just use Add Sites option to claim your website.
3. Add Alexa Widget To Your Website
We already know that Alexa will only count the visits that go through their system. That means, if you add their widget on your website pages, every visit will pass through their system and that will improve your Alexa rank.
4. Ask Visitors To Write A Review On Alexa
Reviews also add value to your website's Alexa Rank. So, it makes sense to ask your website visitors to write a review of your website on Alexa. If they are regular visitors of your website, they will not mind writing a review especially when they know they are adding value to your website by doing so.
Speaking of writing reviews, Alexa has removed this feature from their website now. So, you really can't write a review for any website on Alexa anymore. You also can't have any reviews written on your website anymore.
You can write your honest opinion about my website. Write good, bad or indifferent. But please write something. It helps me and also helps others who want to know what other people have to say about my website.
5. Write Reviews On Alexa For Others
If you are a blogger and you want other bloggers to write a review of your website on Alexa, the best thing to do is, write a review on Alexa for their website.
Once you submit your review on Alexa, send them a link of your review by a personalized email letting them know about it. They may return a favor and usually, they do.
6. Comment On Other Blogs Regularly
Alexa also tracks the number of websites that are linked to your websites. Although they only track the links coming from the websites who are registered with Alexa, they do not differentiate between nofollow and dofollow links. They count both.
That means, if you comment on a blog, whether or not your link is dofollow, it will always count towards your reputation on Alexa rank for your website. That means, the more blog commenting you do, the more links Alexa shows for your website and that means, the better reputation your website gets.
Important: When you are commenting to build backlinks, make sure you comment on the blogs that are related to your niche. It helps your blog's reputation and such links add extra credibility to your website not only on Alexa, but also on search engines.
7. Update Your Website Regularly
Search engines love websites that are updated regularly. If you have a blog, make sure you publish a good quality post on a regular basis. The more consistently you write, the better Alexa rank your website will have.
Writing regularly also helps your search engine rankings in general. So, make sure you take care of this aspect.
Questions: Do you look for Alexa Rank of a website before you want to write a guest post on a blog or comment to build a backlink? What other methods of improving Alexa Rank have you found useful? Please share your thoughts in the comments section. Thank you kindly!