Email is the most commonly used mode of communication today and it is very important to be on top of your inbox. But it's also important to avoid these common communication mistakes that can cost a lot if not managed properly.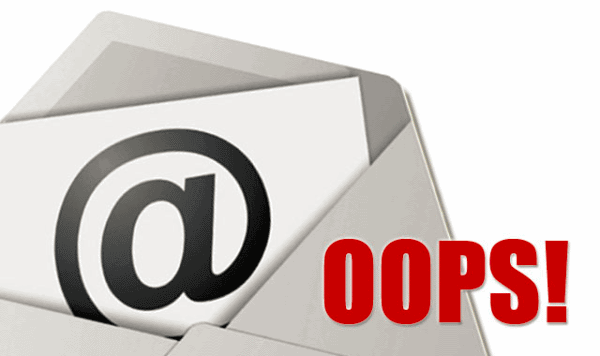 I have been guilty of making all of them at one time or the other and I am still working on some. However, here is a list of some of the most common email mistakes that are easy to make, yet we must intentionally avoid:
1. Use A Proper From Email Addresses
When it comes to communicating with a friend, as long as they can identify you, it's okay. But if you are looking for a job, looking for new clients or looking to network with people who could help you professionally, the email address you send your email from, is critical component. For example, look at these 5 email addresses below :
If you get an email from these email addresses with a very well written appealing professional value proposition, would you not be skeptical? I most definitely will, because these email addresses, somehow do not give me a very good impression of the sender.
"[email protected]" is another email address some companies use and think it's cool. In my opinion, unless the email is just to inform, it is a BAD email address for communication.
In today's competitive environment, I want my emails to create great impressions about me and not the otherwise. What I discovered is, if the first impression is the best impression, it makes sense to have an email address that at least doesn't create bad impression.
An email address from your own domain is the best thing to have, such as [email protected]. If you are using free email services, use FirstName.LastName@GMAIL as much as possible. They are the most widely used and respected free email providers today with a lot of other benefits on the side.
2. Have A Good Opening
While writing the emails, your first sentence can make or break your case. Starting the email with "Dear Sir/Madam" seems like a spam since it doesn't address anybody. Therefore, as much as possible, use the First Name or Last Name or the person along with Dear/Hi/Hello. For example, Dear Mr. Smith, Hi Mike, Hello Mrs. Sinha etc are much better than writing "Dear Sir/Madam".
When you are sending a reply, it is important to remember to use the first name or last name of the person you are replying to. More importantly, if the person who you are replying said, "Dear <Your Name>, most probably they are expecting your reply to begin with "Dear". Make sure you match the tone and thus meet the expectation.
3. Have A Good Closing
Just as the opening line is important, so is the closing. Many times I have seen people forget to write the closing line and those who do, write something like "Cheers!", or "~FirstName". Now, that doesn't give a very good impression of the sender.
A good closing would be "Best Regards," ,"Warm Regards," or "Sincerely" followed by "Your Name". Occasionally, you may also write ,"Respectfully" if the recepient is somebody you respect. But the bottom line – Have a good respectful closing if your purpose is to leave a good impression.
4. Proofread Before Pressing The SEND
Bad language, bad grammer, missing attachment are all as bad when sending email. Do not just rely on your spellcheck tool or it could be really fatal. It is the most important aspect after you are ready to send that email.
Sometimes, the spellcheck can create new errors that can be fatal too. Imagine you are sending a proposal to your prospect from where you are expecting a big order. The name of the decision maker is "Brian" and when he received the email it read, "Dear Brain". This happened probably because your spellcheck changed the name and you didn't notice. Could this cause some negative feelings? I would think so! By the way, I personally know it happened with someone and it created a lot of embarrassment for the him and his company.
The best thing to do is, to read your email aloud to yourself twice. The most common mistakes such as "bad grammer", "spelling mistakes (that your spellcheck missed)", inappropriate sentenses etc can be caught easily if you take time to do that. During that review you will have an opportunity to check for missing attachment as well. This approach helps tremendously as confirmed by a lot of people I surveyed.
5. Never SEND When Angry
Now, this is the one step I can't put enough emphasis on. I am guilty of violating this rule several times. By the way, I am still working on it. But it is one critical aspect of the communication that can damage year long relationships in just a few minutes. Actually, this applies to everything in life. That reminds me of one of the lessons from the amazing book Three Feet From Gold by Sharon L. Lechter & Greg S. Reid:
"Never make a major decision in a valley.

"
I have my own personaly testimonial where it helped me avoid a heart burn just because I took a deep breath and decided to wait for a few hours before sending that nasty email I had already composed. One of my senior colleagues I respected, personally called me to ask to wait before sending my reply to an email we both had received from an important person in an organization we were working with. I did that and I am glad I did so.
There is a tremendously educational article on this topic from best selling author of several books and an incredible human being, Bob Burg. I enjoy learning from him and respect Bob for his wisdom and generosity. He recently wrote an article, "Don't Hit Send. At Least Not Yet!" sharing the steps we ALL can take to avoid email damages especially when we are angry ( that means, in our valley). I highly encourage you to go through the post as I believe everybody can do what he recommends there.
Your Turn
Did you enjoy this post? What are the other common communication mistakes you think one should be careful about? Would you care to share a few of your thoughts?