Today, I am going to discuss about one tremendous book – Platform: Get Noticed in a Noisy World by one of the best selling authors, Michael Hyatt with some power packed information and resources.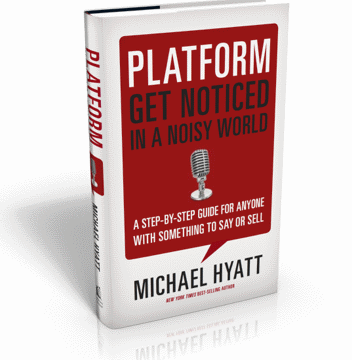 Michael Hyatt was CEO of Thomas Nelson Publishers for eight years and now serves as its chairman. He is a professional blogger, author, and speaker whose blog is consistently ranked in the top three for Productivity, Leadership, Publishing, and Social Media Marketing.
He teaches that, to be successful in the marketplace today, you must possess two strategic assets:
A compelling product

A meaningful

platform

.
It has never been easier, less expensive, or more possible than right now to build your platform and in this book, Michael Hyatt has done a tremendous job by showing how exactly to do it.
I got introduced to this book by John Maxwell when the book was launched. John, in his email, wrote:
"I have watched Michael Hyatt build his own platform from the ground up to become one of the largest in the world. And he has done so with the strategies and tips he outlines in this very practical book. Any author, speaker, or business owner who wants a blueprint for getting the attention and visibility they want, needs to read this book."
The message was intriguing enough already for me since I always wanted to do that and I have had plans of writing my own book. But at the end in his email, John Maxwell said:
"Do yourself and your future a favor, get this book today and start building or expanding your

platform

right away!"
And guess what? I did grab the book right away!
What I learnt when I went through the book and the bonus materials I received along with the book at the time, was absolutely mind blowing!
The Platform offers a step-by-step guide with proven strategies, practical tips and easy-to-replicate formulas. Whether you are an author, pastor, public speaker, entrepreneur, musician, or small business owner… developing your platform is critical for your success.
The book is well written with author's own success story where he shares how he started blogging like everybody else and how he built his platform one brick at a time. I thouroughly enjoyed reading the book and learnt a lot of great things!
Michael Hyatt has put some serious efforts in the this book to not only give ideas to increase your audience, but step by step instructions with resources included. Every business person, blogger, Facebook user and twitter user can receive an extra boost to their arsenal by reading, highlighting, underlining and implementing the proven steps shared in this book.
The final message I love that the author gives is when he says:
If I Can Build a Platform, You Can Too!
He is right! Since I started applying those techniques, they already have started yielding noticable results for me and my business. I think I made a great investment of my time and money in that book and I encourage you to go ahead and get the book right away if you are serious about your online presence and building your own platform!
Your thoughts?
If you already read the book, what did you think of it? If you are planning to buy the book now, why would you want to buy this book?