If you are in any kind of business or employed where your job requires you to talk to and influence people, Go for No! Yes is the Destination, No is How You Get There, is a must have book for your personal library. You owe to yourself to read this book!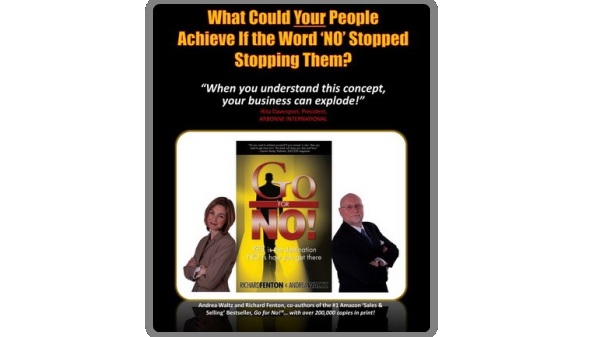 This is another phenomenal story based book that goes straight into my library of all time favorites! I picked up this book last week and couldn't put the book down until the very last page. No wonder it made into the elite list of bestselling books on Amazon.
Initially I thought, "How can this little book of 80 pages have anything that can be so profound?" However, the page 27 and 28 caught my attention when the author first time introduced the importance of hearing a "NO" in the process of sales. At this time, the book got my full attention and I am so glad I did not judge the book by it's size and my feelings about the title.
If you are a sales professional, a small business owner of any kind or if you are in the industry of network marketing (or direct selling), you can't afford to ignore this book. The principles outlined in this book and the simple methods you learn from it, may have a tremendously powerful impact on your ability to grow your business like you would have never imagined before!
Some of the highlights of the lessons I would like to quote from this book as a reference here are:
If you are not succeeding fast enough, you're probably not failing fast enough, and you can't have one without the other. So, if you're going to avoid one, you're going to avoid both.

For most people, the fear of hearing "NO" is the only thing standing between them and their greatness.

A willingness to fail means a person will tolerate just enough failures to get what they need from life, and no more. A wantingness, on the other hand, means you're not just tolerating the failures, you're actually beginning to seek them. When you develop a true wantingness to fail, rejection starts becoming fun!
The Go for No! Yes is the Destination, No is How You Get There teaches powerful methods to make the rejections fun and energizing part of life! Just imagine what happens to your business if you start to practice this art of going for NO rather than trying to avoid rejections everyday…
Question: What intrigues you so much about the book that you would like to grab a copy for yourself? If you already have read this book, what did you like the most about this book?