I guess you already figured out what I am going to discuss in this post from the title itself. However, if you don't have kids, you can still participate in this conversation and perhaps, add some value from your perspective.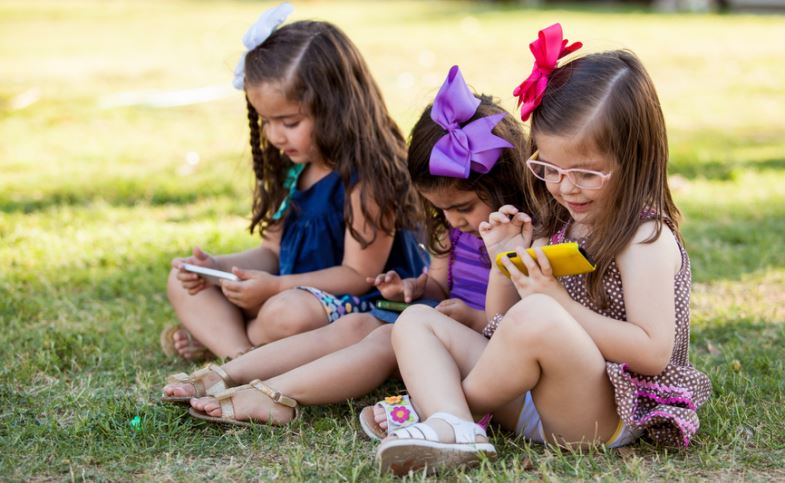 Social media, especially Facebook, is always a cause for concern among parents and a reason for friction in two different schools of thought.
Like all technology, social media is neutral but is best put to work in the service of building a better world. ~Simon Mainwaring [tweet this]
One group of people thinks that Facebook and social media is evil and we should avoid it at all costs. Well, I don't subscribe to that group and that is why this post is also not about them or for them.
The other group is of social media enthusiasts. I actively participate in this group for obvious reasons and this is what my online business is centered around.
But then, you know how powerful social media can be in building your personal brand, online reputation and growing your business at such a low cost if done right.
Similarly, it can also destroy your credibility completely faster than jet speed and ruin your business completely if you do it wrong.
What About Our Children?
We understand the rewards and implications of using social media and use it as we deem fit for our business or branding needs.
But, when it comes to our children, it becomes a little tricky and let me explain why this is so.
When Parents Post Children's Pictures
I have two energetic boys and I post their pictures when I find it appropriate. I try to only post when they did something I can be proud of discussing in public, even if it's funny.
But, I am sure you have come across pictures of parents posting their children fighting or doing things that can be embarrassing later on as they grow up. While posting things online, we should never forget that we are building our children's brand image through our activities. Plus, we should never forget this –
What gets posted on the Internet, stays there forever. Be careful about what you post online. [tweet this]
When We Have Teens At Home
I have teens in my close family relations who don't have a Facebook account. They do it so because their parents (like most parents) do not like their children being on Facebook and wasting time watching and contributing to junk out there.
I don't particularly think that it is the smartest thing to do because it is even more dangerous for their long term branding. Imagine their friends taking their pictures (which could also be inappropriate) and posting them in Facebook and Twitter.
If you are online, at least you have an opportunity to get notified of those postings about you. If you are not, you are letting others create your brand image without your knowledge or consent. I don't like that idea.
On the other hand, there are teens who are posting all kinds of things, liking all kinds of posts and engaging with all kinds of activities because:
They don't know the image they are creating of themselves unknowingly, or

They think it's cool
In both the cases, they are risking their reputation which can come back to haunt them later, depending on the career they choose.
What You Should Know As Parents When You Are Online
Being a parent, I needed to understand that my actions have not only lasting impact on my own brand identity but also on that of my children since I do post their pictures and sometimes about their activities online.
You are not just architecting your own reputation but also that of your children if you are posting about them.
Having said that, in brief, here are a few things you should always keep in mind when posting things online:
You may be connected to people through your social network who, directly or indirectly, can influence your children's career today/tomorrow.

You are the first teachers of your children. They learn more from you than anything else in this world. If you are wasting your time on Facebook/Twitter etc. inappropriately , you are not setting a great example.

What goes online stays online. That means, be careful what you post online. You don't want to have regrets later something that you posted today. It's better to be safe than sorry.

Teaching your children that online social media is evil isn't going to cut it. It's more or less like sex, if you don't educate them, they will learn it anyway but possibly, through the wrong sources.
Handling Social Media To Protect Our Children's Future
Social media is just another thing my parents didn't have to worry about when we were growing up. But I can't take that as an example and ignore my responsibility towards my children's education on social media. Neither can you.
So, here are 5 things you can do to protect your children's future from possible damage by being proactive about it while they are still young:
1. Get Educated About Social Networking
I know it's easy not to allow your child to be on Facebook, Twitter or any social network for that matter. In fact, many parents do that.
But to do that is to take risks which can be avoided by taking responsibility as I explained above. If you are not building your reputation, you are letting somebody else do it for you and that, you might not like when you find out later.
Plus, there are kids who will go ahead and be online behind your back with fake identity and waste their time doing things they shouldn't be doing.
The best thing you can do for your future and to that of your children is to get educated. Learn how to use social media effectively, what to do and what not to do. Learn about using different account level settings on Facebook, Google+, Pinterest and other relevant social networking sites.
When you are educated, you also have credibility when you talk to your children, especially teens about it.
2. Do Not Post What You Will Not Say In Public
Why do you want to say something to the whole world which you will not be feeling comfortable telling your neighbor?
Those are the things that put people in trouble. Remember, you can't escape your actions online. Things that you say online, will stay associated with your name, forever and if it is inappropriate, will come back on you or your children later.
Be very careful about what you are going to say. Think twice before posting personal things online especially about your family, or your children.
3. Spend Time Educating Your Children On Social Media
Just like you make a point to educate your child in math and science, make it a point to include social media in your syllabus for them as they reach the age.
Sit with them, help them set up their profiles, get them aware of online etiquette, as well as the benefits and the dangers of being online. Educate them about privacy settings and how they can (and should) be using these services.
Just like you set rules when handing over the car keys when they start driving, set some ground rules and make sure they follow the rules to enjoy the privileges. It is important that they know that you take social media seriously and you want them to do the same.
These educated habits cultivated early on, will help them today and in the long run as they grow up.
4. Monitor Your Child's Social Media Activities
This is a no brainer. Just like you have access on your child's medical records, you should make sure you have access to their social networking profiles.
That doesn't mean you should spy on your kids all the time or trying to monitor everything they do on a daily basis. But, you do want to be able to intervene and audit their activities when you get a feeling that their social activity level needs some investigation.
Wouldn't you do the same thing if you realize that your child was involved in something in the real world? If yes, the same applies on Facebook and Google+ too.
5. Do Not Allow Another Profile On The Same Social Network
This is certainly one of those things teens do in an effort to have a secret life online while keeping one profile that is visible to parents.
This is flat out inappropriate behavior and you shouldn't tolerate it. In fact, if you just report it to Facebook, they will delete both the accounts instantly. Even Facebook doesn't like it.
If you spend time educating your children or even enrolling them into a social media education program designed for teens, this situation will not arise in most cases. But, if it does, you need to be stringent about the ground rules.
Over To You Now – Share Your Thoughts
What are your thoughts on this aspect of social media management for kids? How important do you think it is for parents to take charge in the social media space to help their children?
Have you dealt with any of the situations we discussed here before? Do let me know your thoughts and add your comments to add value to this post.
Just scroll down and share your thoughts in the comments section. Thank you kindly!