List building and Email Marketing may not be something that a new website owner plans for initially when starting out. While setting up our new website or blog, most of us start out to build our brand identity online.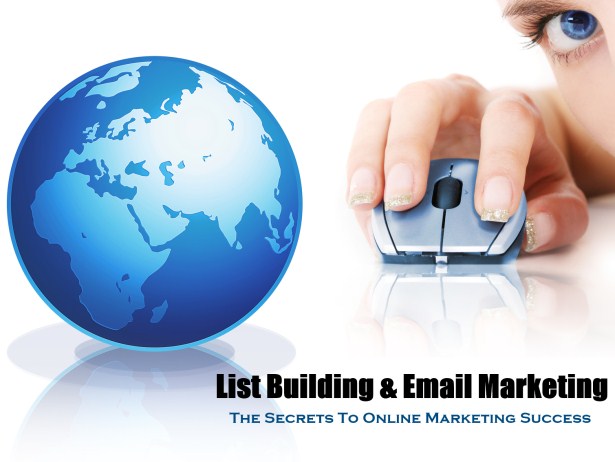 However, as we start to mature and begin to get confidence, we begin to commit a little bit more, and then a bit more.
A time comes when we begin to ask ourselves, "Can I also make money while I continue to do what I am doing online?" If you've had this question on your mind, what you are thinking really is – how to build an online business with your website.
Congratulations for thinking in that direction! That's indeed a great beginning.
Your Online Business Needs A List Building Strategy
Every business needs customers. Therefore, every business needs a list of prospects. List building has always been one of the most important aspect of business development.
Your online business, therefore, needs a mechanism for list building. Building and managing a qualified list of prospects is the most important aspect of online marketing.
If you don't have a list, you don't have a business. Period. [tweet this]
By list building, what I really mean is, you have a system on your website to collect information from people such as their names, email addresses and any other information you want them to provide to you.
People sign-up to enter your email list usually to receive something you are offering for free such as an eBook, an email coaching series or something of value you are offering to your subscribers.
At this time, you may be thinking, how do I do that? How do I manage that list? What do I do with that list? Let's discuss that now.
Use Autoresponder Services For Your List Building
Running an online business and managing your mailing list can be a huge challenge if you are not equipped with the right tools. And it can be an infinitely easier job when you enlist the help of the right tools for the job. An autoresponder is the tool you need for this purpose.
Can you imagine managing your email list of thousands of people and then sending emails to those people manually? The task can be pretty daunting. That's why enlisting the aid of an Autoresponder is a must as soon as possible in your online marketing career.
If you are yet not sure why you need to do list building, Derek Halpern, the founder of SocialTritters published his video blog a few months ago talking about the importance of list building and how it can affect your online business. Go ahead and watch this quick video. I am sure you will enjoy it.
So, what is an Autoresponder and how does it help?
Autoresponders are the web based systems that automatically send your email messages intended for numerous subscribers in your email list. Good autoresponders also track those messages as to:
How many people actually opened the emails

How many clicked any links that you would have provided in your message

How many people actually bought a product or a service that you intended to sell through your email campaign etc.
Autoresponders allow you to schedule your email messages to go out at a specific time, to a specific group of subscribers. You can schedule these to send your blog broadcasts or follow-up emails in beautiful designs with your branding in place to your subscribers.
Good Autoresponders also provide beautifully designed ready-to-use sign-up forms that you can integrate on your website to allow people to subscribe to your email list.
The chances of succeeding at online marketing without this tool are very slim. If you are serious about making money through your online business activities, it is important that you start to employ a good Autoresponder as part of your online strategy.
Engage Your Subscribers With Autoresponder Emails
When a new visitor comes to your website, you've got only one opportunity to make a connection. Your may have a great content, your visitor may be highly impressed with you already. But, if you don't have a proper sign-up form, you lose the opportunity to make a connection and add another person to your email list.
On the contrary, if you have employed an Autoresponder service with a beautiful sign-up form, now you are ready to engage with your subscribers. You now have an opportunity to learn about your readers, find out their preferences, ask for their feedback, learn from them and develop some relationships.
You can now, engage with your email subscribers in following ways:
You can share your blog posts in your branded email formats with your subscribers.

You can send email newsletters from time to time.

You can make special announcements as you launch a new product, new website or a new service.

You can share special resources from the web (e.g. special discount coupons, deals etc.)

You can ask questions and seek their response to improve one of your services. People feel great when you ask for their input.

You can seek their assistance in promoting a product or a service and if your product is really awesome, you may have an incredible success with your subscribers supporting your mission.
How To Choose An Autoresponder For List Building
The Autoresponder market is very competitive and it is sometimes very hard to decide what is the best choice among all the players in the marketplace.
The answer to this question will depend upon your list building and email marketing strategy. I personally use Aweber as my choice of Autoresponder for list building activities and I am very happy with it.
However, in general, here are a few features that you should consider in terms of the features that a good Autoresponder service should have:
1. Your Autoresponder Must Provide A Reliable Email Delivery
All businesses start small, but it is best if as a starting online marketer, you are dealing with services that are reliable. What is the point in having a service that is unable to deliver the messages in people's inboxes?
If the Autoresponder has a good reputation in the marketplace, the chances are that your emails with their service will avoid getting into SPAM folder of people and actually they will be able to read your emails.
Try to do a background check through reviews and feedbacks from forums about the Autoresponder company you are interested in. Check to see what the leaders in the online marketing industry are using and/or recommending. Reputations of the company matters.
2. Your Autoresponder Should Fall Within Your Budget
Speaking of budget, there are some Autoresponder services who offer free list building and free emailing features.
But, most of them will put their advertisements along with your emails. Or, their email delivery rates may not be as good as you desire.
As a personal branding coach, I wouldn't want my subscribers to see the advertisements in my emails that I did not initiate. And I definitely do not want my emails to go into people's SPAM folders.
I feel it is unfair to get something for nothing. I also believe, you always get what you pay for.
Therefore, I would rather hire a premium service that I can count on at a reasonable charge. That way, I am guaranteed a prompt service when there is any challenge.
3. Your Autoresponder Should Offer A Trial Period
In the world of internet marketing, free trial periods prevail. Most of the respected Autoresponder service providers will offer you free trial periods.
When I started using Autoresponders, I tried a few of the services, checked their form templates, email templates, ease of integration etc. Finally, I decided to stay with Aweber because of their reputation and their awesome templates.
4. Your Autoresponder Should Be Able To Handle Many Lists & Campaigns
You may have many ways to do business online. You may be involved in multiple activities and you may therefore want to be able to build your lists for different purposes.
It is important that your Autoresponder service helps you with your multiple list building campaigns.
Also, check if it does have the option to filter subscribers based on different criteria. You should be able to target your subscribers depending on their preferences, locations, buying patterns etc.
Also, it is important to find out if your Autoresponder company charges an extra amount if you use the service for running multiple campaigns or if you try to integrate it with multiple websites etc.
5. Your Autoresponder Should Be User Friendly And Easy To Setup
One of the best things about Aweber is, when I signed up for their $1 trial period, I found them very intuitive. Their ready-to-use wonderfully designed sign-up form templates, their email templates were easy to use.
At the same time, I was trying a few other services as well and I found them relatively complex. Most of them needed me to know HTML, CSS or some kind of coding to really make them usable. I didn't have any technical expertise and that got me intimidated very quickly.
Therefore, I decided to use Aweber and since then, I have never looked back. I really enjoy their simplicity and user friendly intuitive features.
You need to ensure you can set it up yourself unless you really love coding. Also it is important to make sure that your Autoresponder company has a technical support team ready in case that you need answers to further inquiries or assistance (Telephone support).
Compare Top Autoresponders And Choose Your Favorite
The market for Autoresponder services that claim to help you do effective list building, is crowded. However, from my experience and what the leading internet marketers use, here is a list of a few premier and prominent players in this space. I have given a few features that you should be aware of and how these service providers rank against each category.
Free Trial

Phone Support

Email Delivery Rate

Ready Templates

Newsletter Support

Blog Broadcast (RSS to Email)

Multiple Campaigns

Email Tracking

Basic Monthly Pricing

Next Level Monthly Pricing
I encourage you to visit their individual websites and get to know more about them before making your decision of choosing the service that best suites your needs. If you have any questions about any of these services, please feel free to drop me a note or share your thoughts in the comments and I will be glad to answer them for you.
Your Turn To Share
Do you have an Autoresponder service that you use for your list building activities? Do you already use or plan to use one of these services to build your online business? What features do you think are important for an autoresponder service to have?
Please share your thoughts in the comments by clicking here. Thank you kindly!