A business must have a product or a service to sell that people want. Yet, have you seen salespeople trying to deny they sell something? I often hear small business owners and many distributors with direct selling companies deny the fact that they sell.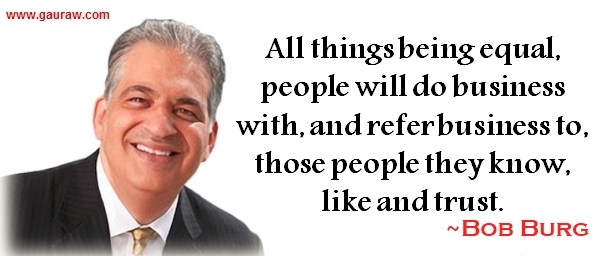 Consistently I run into distributors from different direct sales companies and almost always notice that they are very excited about their products, services and the compensation plan their business opportunity offers.
They truly believe in the opportunity and loved their products. However, when it comes to selling the products, most of them say something along these lines:
We are not like Amway or Mary Kay or one of those sales based network marketing companies. We just show people how they can save money on things they are already using and that's all. We don't sell.

We don't really sell anything… we just help people get the best value for their money because they are using these products anyway.

In my business, we don't need to sell anything. People just love to use our products.
Then, there are those who aspire to become entrepreneurs. How do I know? Well, many reach out to our Krishna World Wide Team for mentorship. Interestingly, many of these folks do not want to do a business that involves sales. They want to be in business for themselves, they can design websites… have great ideas for software products etc., but they do not like the idea of selling.
It is amazing just to imagine how these sharp and ambitious individuals can even allow such a mental block that prevents them from succeeding. Yes, the methods are perhaps different, but that doesn't mean that there exists a business that has no concept of selling!
When it comes to winning without intimidation, I can't think of any better person than Bob Burg. He is my favorite in that domain for sure! His book, Go Givers Sell More encapsulates many great insights about the sales process. He wrote a blog post a few months ago with the title "Embrace Your Inner Salesperson". I encourage you to go ahead and read that article.
When I came to own a business, the first thing I needed to learn was, I need to sell and until I do that, no matter how wonderful the product or the service I provided, I can't succeed. Therefore, I started to study sales books, seminars and also started networking with successful business owners who had all the success I desired. I continue to do these things on a daily basis and make sure that I learn at least one new thing about running business everyday. It keeps me inspired to look forward to another better day!
With time, what I realized was – business owners are not the only people who need to do selling. In fact, students, teachers and the employees from all industries need these skills. Interestingly, those with better understanding of sales are a little bit more successful in their careers than those who don't.
I love this quote from Robert Louis Stevenson:
Everyone lives by selling something.
Question: What comes to your mind when you think of Sales or the idea of selling? Please share your thoughts in the comments.