If you check into your Google Analytics, chances are that your About page (if you have one) is among the top 5 most visited pages on your website.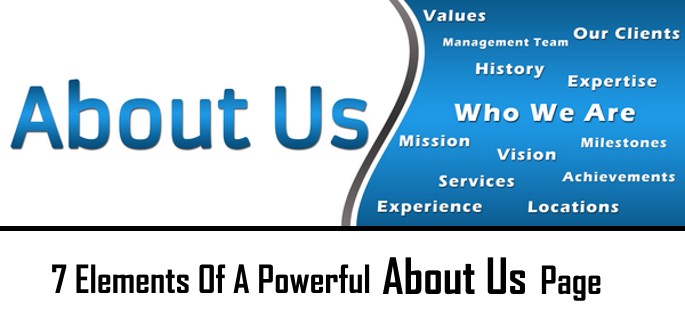 Especially, for your first time visitors, it is the most important page. Any new visitor who lands on one of your pages through organic search or any social media channels, it is the About page that they visit next if they like your content.
I have talked about it in the past and I want to talk about it one more time. This time, I want to talk about it in detail because as I was doing analysis of my conversion rate yesterday,  I found something very interesting.
Out of all the pages on my website including my homepage, the most converting sign up form on my website is the one which is on my About page. More than 50% of my subscribers in the past year have signed up for my mailing list from my about page.
Why You Should Have A Decent About Page
I know blogs and even business websites that do not even have an About page. I am sure that you have come across such websites as well.
Then, there are those of us who have not updated their About page in ages.
Now, my About page is far from being perfect and I have my own list of improvements to make. I have made some progress and you will see many more improvements in next few weeks.
Consider giving your About page the attention it deserves. Why?
Because your visitors need to know who you are, what you do and, perhaps, how they can benefit from your website. 🙂
Your about page is the most appropriate place for you to connect with your first time visitor. Your about page is the most appropriate place to tell the word about your amazing story. It is where you  really get to show your personality, your skills and your value proposition to connect with your reader.
The Elements Of A Powerful About Page On Your Website
Here are 7 important elements you should be considering when creating your About page.
Now, I know that some of these things are still missing from my own About page. But I am working on them and I will make changes as I get a better structure in the coming weeks. Also, some of them do not apply to my blog because it represents me more than a business!
Anyways, here you go!
1. Use Title To Say Something Better, A Little More Meaningful
Traditionally, so many websites (blogs included,) name the title of their About page as 'About' or 'About Me' or 'About Us'.
While it is not necessarily a bad thing, it is definitely a poor use of those 70 characters that are considered optimal for a page title. Also, when people come to your about page, they already know why they are there. A page title such as 'About' does not add any value.
Instead, if you are a business, you could use that space for a persuasive, value driven headline to connect with your reader right from the get-go. Or, if you're a blogger, you could say something personal to come across more human and more approachable.
2. Show Yourself Or Your Team – Give It A Human Touch
Whether it is your personal blog or a business, people want to know how you look and/or how your team looks. Putting yourself on your About page and showing off your team, adds that special human touch which does the magic of connecting the reader with you and your business.
A lot of websites don't do this and they lose out on the opportunity, not knowing why.
When I go to established websites such as MichaelHyatt.com or SocialTriggers.com, I see an excellent example of this aspect. In fact, Michael Hyatt has an impressive video to welcome the reader on his about page.
3. Put Your Value Proposition – Set Expectations
Yes, people visit your About page because they want to know about you. However, they also want to know if they can benefit from your website in any way.
Remember, everybody wants to know, "What's in it for me?"
Therefore, whatever product, service or value that you offer through your website, talk about it in such a way that the reader cannot miss it. People want to know if you can help them in any way.
4. Add Testimonials, Certifications And Other Resources
When you tell people how you can help them through your products or services, you also want to make sure you add some testimonials, recommendations, and other resources to add credibility to your claim.
If you have some certifications, some awards etc. under your belt, this is the place to display it.
It reassures your reader that you are capable and trustworthy.
5. Tell Your Story – Stories Are Powerful
I learned this from Neil Patel and I know I have mentioned about this in the past. However, you should know that stories are the best way to communicate and connect with your audience.
The reason people sign up to my mailing list more on my About page than any other page on my website is, I share my story (me thinks!)
I did not have a very high conversion rate on this page until I added my life story to this page. It did the trick and I started to see the impact.
Oh yes, some people suggest not to make your stories very long. Although mine is not too long, if you look at Neil's page, his story, by comparison, is very long. Yet, I loved it and he's having great success with it. He keeps adding stuff to it. I will let you be the judge and decide how long you want your story to be.
6. Mind The Language – Keep It Interesting
Your about page should not be like a copy of your resume or like an author's bio in a text book. It should be interesting.
The language you use, the words you choose to describe about your company, about yourself, should be conversational and preferably, in the first person. The more the reader feels that the page is talking to him/her, the better. Connection is the key!
Nobody wants to read a boring piece of text.
If you understand that, you will treat your about page as your chance to sell yourself to the reader. You will give your about page content the best shot!
7. Show Some Personality
If you are a blogger and you share your story, it is easy for the reader to understand your personality. That is why stories are so powerful.
However, if you are a business than you might wonder what personality a business can show, right?
Well, the best example is MailChimp's About page. They have done an incredible job of not only telling their story, but also about their culture and the causes they care about.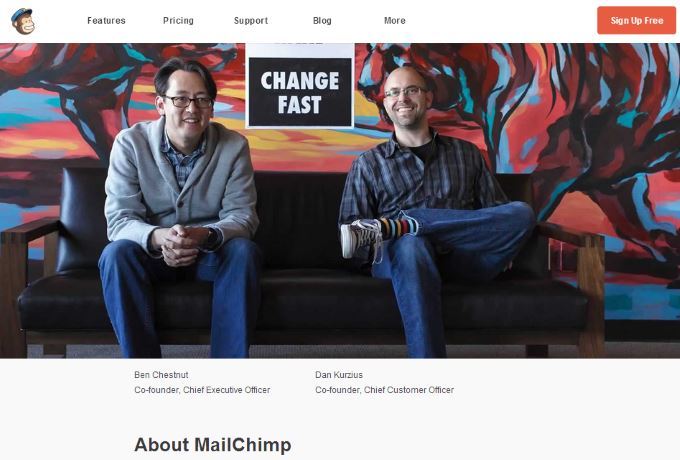 MailChimp is a company but their About page is packed with pictures of their team members, customers, testimonials, their vision, mission, company culture and charity. By the time you are done reading their About page, you start to admire them a little. Isn't that the goal of an About page?
Resources – Examples Of Great About Pages
As an example, I came across this article posted on Search Engine Journal which has picked up some of the most powerful About pages from the internet. I think you will love to see some of them and draw some ideas for yourself. Check this out:
Want To Share Something? Use The Comment Section Below
What do you think of the seven elements of creating a powerful About page? Would you like to add something to this list? Did this information add value to you?
Please share your thoughts in your comments below. I love to know what my readers think. Thank you kindly!