Have you used Google+ Hangouts for video conferencing with your friends, family members or your business associates? When it comes to video conferencing, Google+ Hangouts are one of the top free choices available on the internet.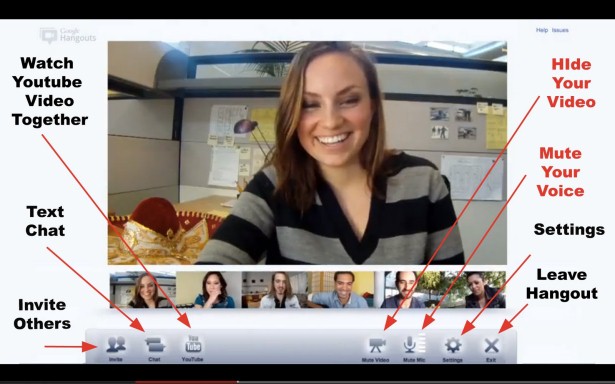 Note: Image courtesy of Kate Harper's blog post on awesome tips on Google+ Hangout Etiquettes.
A few months ago, I shared some of the free conference services to conduct teleconferences involving international countries. Now, it's time to take the discussion up a notch by doing video conferencing for free.
Can you imagine how powerful it is to have 10 people from different places join LIVE in one video conference and talk to each other? And on top of that, isn't it incredible that you can do it for free?
If that isn't enough, it is also possible to put your video conference on live streaming to be viewable by public and also record and upload your hangouts to your YouTube channel . All this comes to you for free if you just have a Google Plus account.
Google+ Hangouts For Personal Use
If you have family members at different geographical locations, Google+ hangouts can bring many blessings. You can just start a hangout and everybody (who has an internet connection and a Google+ account) can join you there. Now, all participants on the hangout can talk to one another LIVE and have a great time. There is so much fun doing it.
Google+ Hangouts For Business
Google + hangout is indeed a feature-rich and versatile platform for expanding your reach and influence of your business. I use this tool extensively for my business and I know many who just love using Google+ hangouts for business!
As a business owner, you can make use of Google+ hangouts in many ways. Just to name a few, here are the most common uses of this awesome feature for your business:
In-house company video conferencing with team members at different locations.
Video conferencing with clients where you can give presentations, share the screens, edit the documents and draw charts using Google+ hangouts easily right from your desktop.
Conduct Google+ hangout webinars for a limited group of prospects/clients
Conduct interviews on Google+ hangouts where you can invite an expert from your industry to speak to your audience and you can also record the interview to share later.
Provide customer support using Google+ hangouts. Your customers may love you for giving them such an incredible experience.
Broadcast A Talk Show. You can use this to broadcast something to public that can serve as an advertisement for your business.
Product Demonstration using Google+ hangouts. You can use this feature to release new product videos, record it and also upload it on your YouTube channel for sharing later.
Awesome Features Of Google+ Hangouts
Let's talk about some of the features that have made Google+ hangout, an awesome online tool for personal and professional use. Whether you are using it for business or not, you can certainly enjoy these features:
Google+ Hangouts Can Be Private or Public Video Conferencing
You can keep your hangouts private by only inviting those individuals you are interested in talking to. Such hangouts are private to the participants only.
You can also share your Google+ hangouts with one or more of your circles. Or, you can choose to make it public. You can choose these options as soon as you decide to start a hangout.
Google+ Hangouts On Air Can Be Used For Live Broadcast And Recording
This is a relatively new but very powerful feature. With 'Hangouts on Air' option, Google allows you to not just broadcast your hangout like a TV broadcast on the LIVE stream, but also allows you to record the entire session and upload it to your YouTube channel.
From YouTube, you can now share your recorded session anywhere on the web including your own website. I think this is a great feature for internet marketing professionals.
You Can Use Screen Sharing During The Google+ Hangout Session
Just like any webinar, or any live session, now you can share your screen with your hangout participants. You can share your desktop, run a power point presentation or a video with everybody.
You Can Start Google+ Hangout With A YouTube Video
Suppose you are watching a YouTube video and suddenly you think of showing it to a few of your friends or customers depending on the context and wish to discuss it.
Guess what, you can immediately start a Google+ hangout session right from your YouTube and show your participants this video and have that discussion. Isn't it an amazing feature?
Google+ Hangout Automatically Highlights The Person Speaking
When you have several people participating in a video conferencing session using Google+ hangouts, obviously everybody will participate, everybody will say something at some point.
Google+ hangout makes the experience of video conferencing so awesome by automatically switching the main window to display the person who is talking at the moment.
When somebody else starts talking, the window changes again. The main hangout window always displays the person talking at the moment while everybody else is shown as thumbnail.
You Can Invite Up To 9 Participants In Your Google+ Hangout
The free Google+ accounts can have 10 people in one Google+ hangout session. That means you can invite 9 more people to participate in your meeting.
That only means that 9 people can actively participate. However, if you make the event public, any number of viewers are allowed.
How To Setup Your Google+ Hangout Session

s
If you would like to utilize these fun features of Google+ hangouts, you will need to login to your Google+ account.
If you do not have an account, go ahead and create your Google+ profile now. If you already have your Google+ profile ready, follow these steps to start your Google+ hangouts for video conferencing:
Start Your Google+ Hangouts From Your Profile Page
As shown in the picture below, you can start your Google+ hangout from your Google+ profile page with one click.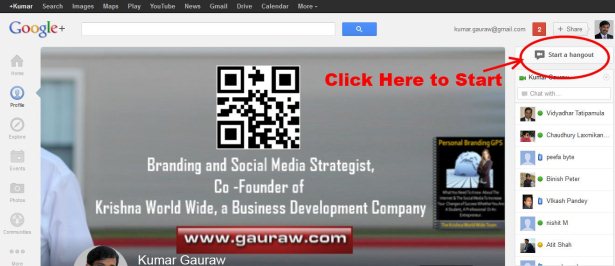 It will branch out a new browser window and ask you to give a name to your hangout. At this stage, you can choose to invite individuals from your circles or the whole circle itself to your Google+ hangout.
In the same window, if you enable the "Enable Hangout on Air" checkbox, it will start to LIVE stream your Google+ hangout on your Google+ Stream. It will also start recording your session for upload into YouTube automatically.
You will be asked to read and agree to the Terms of Service. You know you have no choice but to accept. So, go ahead and accept that.
If you selected the option to "Enable Hangout on Air", Google will prompt you to connect your YouTube account with your Google+ profile. Follow the steps to verify your account with a mobile phone. Once your YouTube account is verified, you are ready to go!
Reference: Creating a Cool Google+ Video by Norma Doiron
Schedule Future Google+ Hangouts Using Google Calendar
Now, you can add a Google+ hangout to any calendar event with just one click. Everyone you invite for the meeting will be able to join the video conference call by clicking on the calendar event and selecting Join Google+ hangout.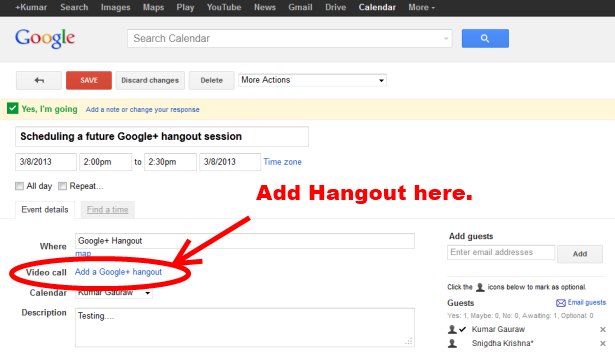 As shown in the screenshot above, you will see the link to Add a Google+ hangout on the event page for any individual events you create using your Google calendar. Clicking on this option will add a hangout to the event you are scheduling.
You can also choose to have hangouts automatically added to every calendar events that you create. To do so, go to Calendar settings and select Yes next to Automatically add Google+ hangouts to events I create. This option is disabled by default. When you enable it, every event you create using Google Calendar on desktop will have a link to a Google+ hangout.
Once the event is scheduled, now the meeting attendees can simply click on "Join Google+ hangout" link from the calendar event and join your video conference session.
I have teams in many international countries with whom I do game planning and counseling sessions periodically. This feature has proven to be such a tremendous blessing for my team. We simply love this feature.
Over To You Now – Share Your Experience
How do you use Google+ Hangouts? How is your experience so far with Google+ Hangouts? Do you recommend it to small business owners to use?
Please add value by sharing your thoughts in the comments now. Please click here to write your comments. Thank you kindly!