Just because Aweber is popular, it is not necessarily the best email marketing service out there. After being a loyal customer for over 3 years, I finally decided to change my service provider.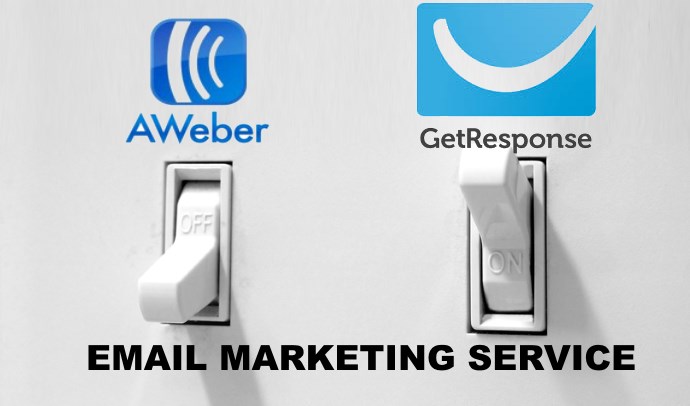 The reason I signed up with Aweber is not that I knew a lot about email marketing. It wasn't because I knew a whole lot about different companies either. I chose Aweber for my email marketing needs because it was the service so many online marketers were using and recommending.
People told me that Aweber was the "gold standard" in email marketing. And it worked. I was impressed and convinced!
At a preliminary level, the pricing of Aweber looked similar to the other companies around (slightly more than others. Well, shouldn't I to pay slightly more for the best in the world?)
So, Aweber became my Autoresponder service of choice. I also recommended Aweber proudly to my audience because I knew that I was recommending the best!
. . . Until I started running into a few problems and began my research in depth.
The Problems I Started To Encounter With Aweber Service
There were not too many issues to deal with. However, those I encountered were alarming and I needed to find a better resolution for my peace of mind.
First Problem – Aweber Charges For Unsubscribers Also
The first shock came to me in terms of a monthly bill over and above my then current subscription package although the number of subscribers in my list were below the upper limit.
When I called their customer service, I found out that there were a hundreds of unsubscribers in my list (some of them were spam) and they charge for everything. You might want to check out my earlier post on this topic because I am not going to re-write the whole thing here again.
After that, my friend Adrian Jock did a thorough research about companies charging for people who unsubscribe from your list. He published his results in his post titled," Who Else Charges You for Unsubscribes? #EmailMarketing" recently.
It's not just Aweber. There are other companies who also charge for unsubscribers. Basically, it is a bad practice on their part because they don't highlight those charges when they are marketing their services to you and me although they do mention it somewhere in their FAQ or training topic.
The question remains, "Should they not prominently show a topic for such an important financial charge?"
Anyways, let's move to the next problem and the tipping point.
Second ( And The Last) Problem – Bad Delivery Rates
I started to notice that a lot of my emails were going into SPAM folders of people. That means, my subscribers were not getting my emails.
Again, some of my friends pointed this out. As I dug further, I found that a lot of people were facing this problem with Aweber.
I spoke to Aweber customer service and they provided me a couple of suggestions. They asked me to add a SFP record which I did. However, my email delivery rates didn't seem to improve much.
It was a real concern and I needed a solution. Not knowing what else to do, I kept looking and came across a discussion on Neil Patel's website and I knew what to do!
What Neil Patel Said About Aweber On QuickSprout
People asked Neil the reasons for his switch from Aweber to GetResponse in late 2013 and in response, here is what he said:
Aweber doesn't have the automation functionality that Get Response has. Also Aweber's deliverability rates are crap due to the fact that a ton of spammers are also on Aweber. Not only did I want flexibility, but I want more features and a lot more automation.
Now, if you know me, you know that I don't follow so much what people teach but I am a keen observer.  I implement what I see leaders doing because I know they have done their homework.
If Neil Patel, a man with so many resources, faced significant problems with email delivery while using Aweber then I knew I couldn't solve it either. I needed an alternate. Since he chose GetResponse, it instantly became a strong candidate for my switch.
Any New Service Must Have Features I Enjoyed At Aweber
Yes, there were many good choices. However, I was looking to switch to a place which is established. A provider that can be integrated easily with some of the top services like Woocommerce, Popup Domination and many others.
I was also looking for a service that had great email templates so that I didn't have to reinvent the wheel.
More importantly, I was looking for full automation where I could setup my Autoresponders such that I could control the way my emails were delivered. For example, I wanted:
My second email in the mailing series should be delivered to only those who clicked on a link in my first email.
People who opened my second email but did not click on any link would get a reminder to read the second email before they could receive the third email.
….etc.
I wanted to make sure the email templates were responsive. In today's atmosphere, it has really become one of the most important things. I continued my research and found some great insights into GetResponse's email marketing service.
From what I learned, I came to the following conclusions regarding some of the top features:
Naturally, I made-up my mind that GetResponse is the email service provider to switch to. I didn't see any reason to delay my move anymore.
So, I signed up for their 30 days free trial and within 24 hours paid them in full to become a paid member since I felt so much better immediately!
GetResponse Features Aweber Doesn't Have
Now, let's talk about some awesome new features I got with GetResponse as a surprise. As a matter of fact, I didn't even know they existed. Well, the credit goes to my ignorance for that. I didn't even think I needed such features!
1. A Mobile App For Email Marketing
Wouldn't it be nice if Aweber had a mobile app that we could use to manage all our email marketing campaigns and not just check status of our broadcasts?
Unfortunately, Aweber didn't give me any such feature and I am not  sure when they will if they ever will.
With GetResponse, you get an awesome iOS and Android App you can use to do just that!
Now, I can send emails, check analytics and do all of my email campaign management from my iPhone no matter where I am – as long as I have my cell phone network working.
2. Ability To Create Beautiful Landing Pages
Although I am not yet using this feature, I was pleased to know that I don't have to go hunting to create beautiful landing pages with just a few clicks! With GetResponse, you get this feature for an additional $10/month.
Yes! you can create stunning landing pages using their drag and drop builder. In a nutshell, some of the features of their Landing Pages are:
You have a choice of color schemes for your pages.
They give you a built-in landing page template which you can modify to your liking by moving stuff, add/remove stuff.
You have total control over the design of your landing pages and if you like, you can also edit the HTML code.
It's easy to setup the landing pages you create either on their server or you can configure them to host them with your own domain name.
Their landing pages feature may not be the best in the world. I just say this because there are professionally run companies around only creating landing pages alone and they may have features that GetResponse may or may not have. However, for me it's a great deal because I am not too picky about that feature yet.
Conclusion
I have made a well thought-out, well researched move. I have switched from Aweber to GetResponse and I couldn't be any happier.
My email delivery rates have gone up. My email open rates have gone up and my emails look much better. I wanted to share this joy with you and remind you that what is popular may not always be the best out there.
A lot of internet marketers seem to promote Aweber and I did too. But, after careful research and experiment, I've come to the conclusion that my stand changes from here on.
If you are with Aweber and you are serious about better email marketing, you might want to check in detail to see what value you are getting for your money with Aweber.
You Have A Voice, Share Your Thoughts Now
Which email service provider do you use for your email marketing needs? What do you like about their service the most?
Please share your thoughts through your comments and add value to this discussion. I look forward to learning from your experience and your perspective.
If you are still thinking which email service provider the best for you, I highly recommend you to check out GetResponse. Now, I use them and I am extremely pleased with their service as you can figure out from this post 🙂
[button size="10″ url="https://www.gauraw.com/go/getresponse"] Test Drive GetResponse For 30 Days![/button]