Investing in my future is the first thing I had to learn when I started my journey as an entrepreneur. It was an obvious but difficult habit to cultivate as I did not have a business background. I did not understand the value of investing in the beginning.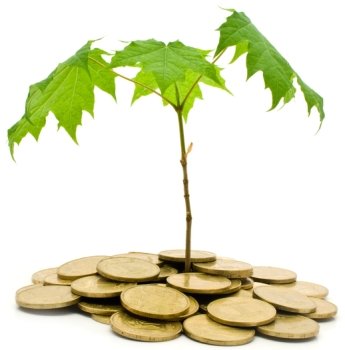 However, with the help and support of my coach, I got over it and learnt to invest appropriately.
Long before I had this blog I learned that business owners need to think very differently than employees do. I needed to learn to think like a business owner if I intended to become one. Among many important things, relevant to this discussion, I needed to learn three important things:
I needed to decide who I chose to listen to. I had to learn to make wise choices.

I needed to learn that business owners invest while employees spend.

Employees look for reimbursements while business owners look for return on their investment.
Why Treat Your Blog As A Business?
Blogging is no different than any other career activity. In every field, you always have a choice. You can choose to operate an activity like a hobby or you can get serious and become good at it. If you treat blogging as a hobby you will never succeed (which you shouldn't expect anyway). Even then you will need to invest a little bit of money and time to manage it like a hobby.
However, if you take it with a professional seriousness, this definitely has the potential to become a significant income generator for you. There are many success stories with blogging and none of them became successful without getting serious about it.
Look around today, every successful entrepreneur has a professional quality and well maintained blog that supports their business. If they did not treat their blog as a business, why should they spend their time and money to grow and maintain it?
I think that investing in your blog is an investment in your own future. You decide how much of your time and money you are willing to invest in your future.
Investments That Will Enrich Your Blogging Career
Speaking of investment choices for your blogging career, there are things that have the ability to increase your chances of success if you take them seriously. Let's discuss some of the important investments that you should consider to make:
Invest In Your Website's Customization
If you are using one of the Content Management Systems (CMS) such as WordPress, there are thousands of pre-designed themes you can obtain and use. Many are free and many more are premium themes that you can buy.
However, no theme can represent you precisely right out of box. So, there is a need for some customization work that gives your website the look and feel you want. Your website is your face on the Internet. It is your brand name on the Internet and you want it to be the best it can be. It is important that you invest your time and/or money in the right customizations.
Invest In Building Your Website Traffic
This is a challenge for most entrepreneurs online. You may have one of the best designed websites in the world. You may have high quality ideas, products and services that you truly believe that the world needs. If no one comes to your website, you aren't going to make any difference.
Driving traffic to your website through social media, through search engines and forums, etc. is important to your online entrepreneurship. That means you need to invest your time and/or money in building a steady stream of web traffic to your website.
Google AdWords, Facebook advertising, Twitter marketing, Search Engine Optimization work on your website are some of the most common methods of building traffic among the almost endless list of methods. All online marketers and bloggers use some or all of these methods. If you want to see success online, you should explore your options as well.
Invest In Updating Your Blog Regularly
We are talking about blogging here. Business or not, if you have a blog and you wish to keep it going, your blog needs to be updated regularly. There is no need to update it daily or weekly as such. However, you need to have some kind of schedule and stick to that schedule.
You may publish new content such as announcements, educational material, interesting news, coupons, contests, etc. on your blog depending on your blogging strategy. Doing these things requires more time invested than money. This investment is important and critical to your blogging success.
Invest In Networking With Other Bloggers
Passionate Entrepreneurs love networking because they know the value of networking. The same rules apply to you as a blogger. You can network with other bloggers in the following ways:
Comment on their blogs.

Share other blogger's helpful posts on social media channels.

Guest blog on other blogs.

Participate in local blogging networking groups in your area.

Interview other bloggers or invite them to guest blog.
These things obviously require some time in a consistent manner. If you are in a time crunch, hire someone who is good at it to get the job done. Either way, this is a very important investment you will need to make.
If you have a job, most probably you use a lot of tools to do your work on a daily basis. Do you realize your employer owns all those tools? If you have a business, having the right tools to do the work should be a no-brainer for you.
When it comes to blogging for business growth online, here are some of the basic tools your blog needs. If you don't have them yet, it may be time for you to begin thinking about getting them in place:
Above are just a few examples. Your blog and business may need a few additional tools. When there are needs, it is okay to invest in the right tools but you must budget for them.
Over To You For Your Thoughts
Do you invest more money or more time in your blog? What tools do you use to manage your blog and business? I'd love to hear from you. Please share your thoughts in short or long in the comments section. Thank you kindly!