Website speed is one of the top concerns of every webmaster. Especially since the news came that search engines factor page load time for ranking websites, it has become even more critical aspect. And that's exactly where Content Delivery Networks (CDN) come into picture.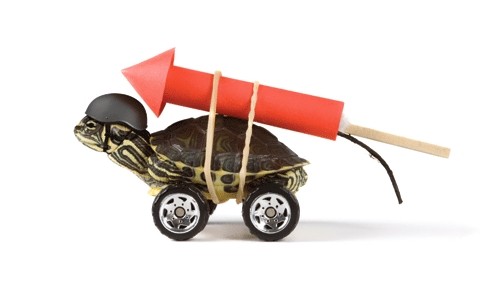 Speaking of CDN service providers, if you haven't heard about CDN77 before, you are not alone. I didn't know about them either, until I was approached by Jessica at CDN77 to try their services on one of my websites. Jessica offered me a free 14 day trial period. I agreed to try them on my Krishna World Wide Team website.
Although I am on a paid plan with MaxCDN until the end of this year, I wanted to find out a good alternative to MaxCDN in case I need. So, I started my trial and so far I am extremely happy with the website speed improvements I have seen.
CDN77 is relatively a new player in the Content Delivery Network (CDN) marketplace with an impressive presence across the globe and a solid distributed server network across all subcontinents. Their Asia coverage is especially awesome!
What impressed me even more was their personalized service. I had a little challenge in activating the service along with CloudFlare because both were not working together properly because of a configuration conflict (which I didn't know). I sent an email to Jessica and she got the problem investigated right away and I had CDN77 up and running along with CloudFlare in just a few minutes.
If you are here for the first time, you might not have seen my previous posts where I discussed about benefits of CloudFlare and how to configure it. You may also want to see how the combination of CloudFlare and MaxCDN became the game changer in the process of speeding up my website. So, here are the links to those posts for your reference:
Why You Need A CDN Service For Your Website
In my post earlier this week, I shared why you should invest in your blog or website. Just to extend the investment criteria, think about your SEO needs. Do you know that your website's page load speed is one of the key parameters that search engines consider before ranking?
That means, the faster your website loads, the higher your chances of getting a higher rank. That is why all top SEO experts are talking about website speed as an important factor to consider when planning your resources for SEO.
The best way to get your website speed to improve is to implement a good Content Delivery Network (CDN) service on your website. When you do that, the static contents of your website pages (such as your CSS, JavaScript, images, audio files, video files etc.) can be delivered from the closest server from the location of the browsing user using the distributed network of servers that your CDN service provides. This makes a tremendous difference on your page load speed of your website.
Interesting Features Of CDN77
CDN77 seems to have almost all features that I currently enjoy with MaxCDN. But there are a few enhanced features of CDN77 that have caught my attention. For example:
CDN77 has 24 POP Locations in North America where MaxCDN has about 8

CDN77 has 28 POP Locations in Europe where MaxCDN has about 2

CDN77 has 8 POP Locations in Asia where MaxCDN has about 2
Best of all, CDN77 works well with CloudFlare as well which I cannot live without. CloudFlare is a basic CDN service already along with their awesome security features and when I tested CDN77 and found it working very well alongside of CloudFlare, I was convinced.
CDN77 Seems To Be Very Cost Effective
I am on the yearly plan with MaxCDN which is about $79 a year upto 1TB of bandwidth. It is a low volume plan and works well for me at this time.
CDN77 doesn't have such a pricing option at this time. However, they price based on usage which is very competitive when compared with MaxCDN or any other CDN service provider. When I compare them with MaxCDN, I find them at least 5 cents cheaper per GB of bandwidth usage in every situation.
Steps To Setup CDN77 On Your WordPress Website
Although CDN77 works with many content management systems such as Drupal, Joomla, Magento etc., I am going to share the setup instructions for WordPress only. For setting up CDN77 on other systems, you can go to their online setup guide after you sign-up for their service and find out instructions for your platform.
The steps involved in setting up CDN77 with a CloudFlare powered self-hosted WordPress website are very simple and here is what you need to do:
1. Create Your Account With CDN77
Sign-up for a 14 days trial period with CDN77 by clicking here. Fill in the details it asks and you will have a ready to use account in minutes. You will receive a confirmation email with your login information and instructions to create CDN, to configure CDN and to implement CDN on your WordPress website.
2.

Create A New CDN Record For Your Domain
Login to your account with the login information you received and create a new CDN for your website. The screen will look something like this: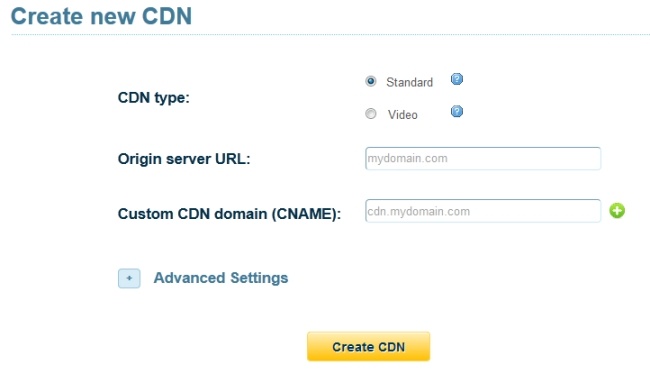 3. Add A New CNAME Record On Your Domain
This step requires you to login to your domain registration account. If you are on CloudFlare, you will login to your CloudFlare account and add a new CNAME entry for your CDN subdomain that you created in the last step. In my case, I made a new CNAME entry for cdn.krishnawwteam.com and pointed it to the CDN URL provided by CDN77 for my account.
Once you finish this step, you will be able to use your CNAME (e.g. cdn.krishnawwteam.com in my case) or the CDN URL alternatively while configuring your website.
4. Configure CDN Using W3 Total Cache WordPress Plugin
In the end, you need to configure your CDN using W3 Total Cache plugin which is the most popular cache plugin in the WordPress world. By the way, if you have WP Super Cache, you can configure your CDN with that as well.
However, since I use W3 Total Cache, I am going to provide the steps I followed to setup CDN77 on my website. Here are the steps:
From the General Settings menu within W3 Total Cache, scroll down until you see the configuration settings for CDN and enable the option as shown in the image below: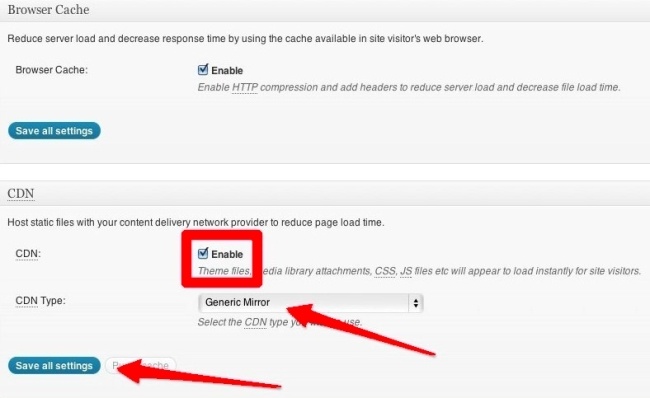 Save the changes using the button and go to the next step.
Scroll up towards the top where you will see the link to jump to the CDN section of the W3 Total Cache plugin where you will be able to provide your CDN URL. Here is the screenshot showing what you need to click:

Now you are at the final configuration screen where you will provide your CDN URL as shown in the image below.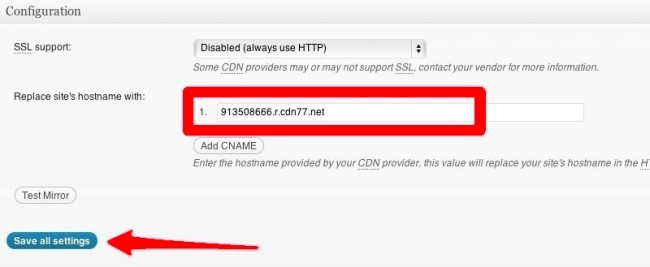 Save your settings and you have just powered your website with the powerful network of CDN77. You can now go to Pingdom or GTMetrics like webpage load testing tools and notice the difference in your improved website speed.
Did My Team Website Speed Increase?
Absolutely!
I usually test using Pingdom and WebPageTest tools. If I disable CDN on Krishna World Wide Team website right now, my website loading speed goes down to about 7 to 10 seconds.
However, as soon as I enable CDN77, my website speed improves dramatically. Pingdom shows that my website loads in about 1.45 to 1.70 seconds depending on test location.
WebPageTest services shows that for a full load, the website speed for the first time visitor is about 5 seconds and for subsequent visits, it's about 1.11 seconds. Considering the way WebPageTest does the evaluation, this is not at all bad.
My Conclusion
I am onboard with MaxCDN at the moment and I am extremely happy with them. Therefore, I am not in a mood to rock the boat as of now. However, if I ever decide to move away from MaxCDN for any reason, CDN77 will be my next option considering their performance, support and network.
Over To You, Share Your Thoughts
What CDN service do you use? What kind of loading time do you experience on your website? Do you have any recommendations?
Please share your thoughts in the comments section or simply click here. Thank you kindly!