I have not written about leadership for a while on this blog and I thought I need to talk about the relationship between confidence and success in this post.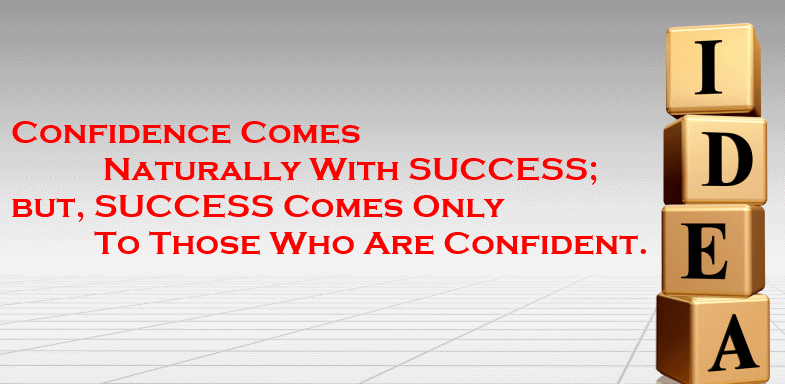 Somebody I am coaching to set up a business shared a concern that triggered this post today. It's very common and one of the things I struggled with in the beginning as well.
His problem is that nobody seems to support him when he wants to start a business. Anybody (his friends, his parents etc.) he talks to, he only receives feedback that shows him how difficult it is to succeed as an entrepreneur.
All Business Is Selling
I have been dealing with this issue myself for a very long time. Coming from an IT background, I was never taught selling, but I quickly realized that if I needed to succeed, I needed to be good at selling.
Convincing anybody to do anything you want them to do, is selling. Entrepreneurship is about selling. Convincing your employer that they need you for your skills, is selling. You can't succeed at anything if you are poor at sales.
Confidence Is Where It All Begins
Have you seen people who are already successful get instant support from others, no matter what they start?
The world is full of followers. They need a leader they can follow. The question is, are you a leader?
And your leadership begins when you become confident. People begin to agree with you, support you and then follow you when they realize that you know what you are doing. They begin to respect your decisions when they realize you don't need their approval to achieve your dreams and goals.
We Look For Opinions When We Lack Confidence
We go to read online reviews on products and services when we don't have much confidence about them. Especially, if we just apply a little common sense, we can easily see that people who are freely giving negative opinions are people who usually do not have anything to show for.
If I have any confidence in myself, I will take a moment to think about the credibility of the person before I give any attention to their opinion. If they say something doesn't work, do they know what works?
If somebody says that I shouldn't do something because they tried and didn't succeed, the question I will ask is, what is that they have succeeded at? And, if they have succeeded at something, are they willing to help me in succeeding at that?
If not, I should be very skeptical about them and their opinion, shouldn't I?
People Don't Give Opinions When You Are Confident
On the other hand, since I stopped asking for advice from people who aren't doing (or succeeding at) what I am trying to do, I have stopped receiving negative opinions.
In fact, the very thing about which people came in flocks to advise against doing, now they come to admire me for staying the course. I have not heard negative advice from anybody in years.
Why?
Because I worked hard to gain the knowledge about my own strengths and weaknesses. I worked hard to build my self-confidence. I know why I am doing what I am doing and so I no more even slightly come across as a person who may need a suggestion or two! Now, I only get support, no opposition!
Reason? Confidence!
How To Build Your Self Confidence To Be A Person Of Influence
Confidence is not something we are born with. It is something we all acquire through our actions and attitudes.
Here are a few habits I want to share with you which have helped me build my confidence, and many I know:
1. Read Daily
When it comes to reading, I am totally sold out. For more about my reading habits, check out this post. Reading is a vital part of building our self-image(esteem).
This is the best way to know positive things and success habits which we don't even know we have. Books also teach us about things we need to change to be better.
2. Dress For Success
Whether you meet someone for the first time or you meet them often, the way you dress talks volumes about you indirectly, subconsciously.
Research has found that when you dress appropriately, your self-image is naturally up. You feel good about yourself and so does the other person. Dressing sharp boosts your self-confidence and that of other people in you.
3. Walk Like A Winner
Confidence is revealed in your walk as well. Do you walk like a person with high self-confidence or do you come across somebody who is dragging his/her feet because of lack of enthusiasm?
Driven people identify themselves through a spring in their walk. Try emulating this habit and feel confidence instantly within you.
4. Talk Like A Champion
This one is a big one as well. A simple thing but very powerful. The average people uses terms like "I hope I can do this", "I am trying to do this", "I can't seem to do this" etc. These are terms that portray lack of confidence.
Things like hope, wish, trial are the words of weakness, especially when used in the context of getting things done.
On the other hand, if you talk to champions, they talk success even before they see success. There is a tone, an enthusiasm and a certainty in their speech pattern. Do you speak like a champion?
5. Be Prepared – Be Ready
Sometimes, even a confident person feels lack of confidence about a situation they are not prepared for. As an example, no matter how confident you are, you will not feel very confident if you are asked to jump into 50 feet of deep water if you don't know how to swim, will you?
But, if you know swimming, you will have no problem!
Preparation brings confidence as well. If you really want to start a business and you do your due diligence about it, research about the industry, get yourself knowledgeable about it, nobody can shake your tree.
When preparation meets opportunity, success happens. Are you investing time in being ready, being prepared?
6. Trust In God
Above all, my strength comes from my trust in God. I was watching Oprah's Super Soul Sunday the other day and she said the same thing speaking about fear.
I don't remember who the guest was but she said, the moment we get out of our own way and become one with God, all fears dissolve and the confidence emerges.
That's exactly how I feel. A sense of connection with God takes away all our fears and connects us with our confidence because I know, with God, everything is possible.
Confidence Is Not Arrogance
Oh, by the way there is a thin line between high confidence and arrogance.
When you are confident, you are more open minded, more caring about other people while you don't let other people's negativity get to you.
On the other hand, when you are arrogant, you don't let others speak. You don't like anything which is not echoing with what you already have decided to be the right thing.
While confidence is a great asset, arrogance can hurt us and make us deprived of the happiness and satisfaction even if we succeed. Be watchful!
Over To You – Share Your Thoughts
What role has confidence played in your life so far? How do you keep your self-confidence high?
Do you let other people decide what is good for you? Or, do you make your own well informed, well researched decisions?
Please share your thoughts through your comments. Thank you kindly!