Positive Thinking is what we all aspire to develop. But technically speaking, negative is what subconsciously we are susceptible to. Here is my perspective on why it is so hard to think positive and remain that way consistently and what can we do about it.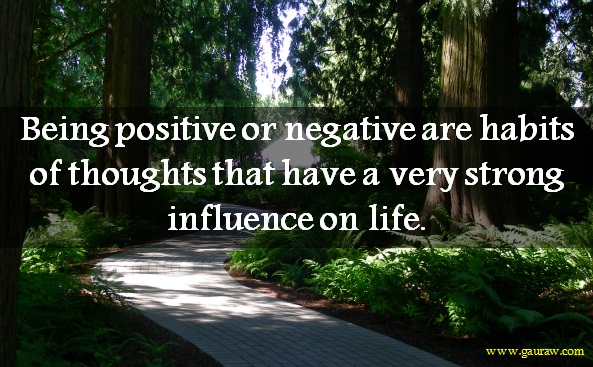 Photo Courtesy of Bill Butler
Did you know that our mind can do 100 trillion calculations per second? What an amazing instrument under our possession!
Did you also know that, even with this infinitely powerful brain, it is impossible for you to smile and be angry at the same time? If you want to test this, give it a try… right now – I can wait.
Positive Thinking And The Farm Land Analogy
Speaking of developing Positive Mental Attitude, have you noticed that no matter how healthy the soil is, but if no seeds are sowed, weeds will grow automatically? In fact, the weeds grow anyway and it takes a lot of consistent work by the farmer to keep the weeds away from the crops.
Similar to the farm, is our incredibly powerful human mind. It can register positive and negative both thoughts at an incredibly high rate. In the book, The Science of Getting Rich, Wallace D. Wattles shares how subconsciously we are sensible to negativity. I encourage you to read the book for a greater understanding on how our minds work. However, negative thinking, like weeds, is automatic. It grows in our minds effortlessly while the positive thinking takes conscious effort to develop and consistent practice to keep up.
Positive Thinking And Computer Analogy
If you have a computer, you do realize how much effort it takes to clean up your machine once it gets a virus. Therefore, we buy antivirus programs as soon as we buy a new computer. There is not even a second thought about investing in a good antivirus program.
When it comes to protecting our most valuable property, non replaceable and infinitely powerful supercomputer – our own minds, doesn't it make sense to be that much careful, if not more? Don't we need to be extremely aware of what kind of programs are running in our mind? Are those programs healthy for our being? Are the programs that we are downloading in our minds, helping ur be better today than we were yesterday? Or are we any careful at all?
I think keeping our minds healthy, providing good nutrition to our minds and protecting it from the viruses should be our top priority. How are you protecting your brain from viruses of negative influence?
Developing Positive Mental Attitude
Positive Thinking comes with conscious and consistent efforts and it is our own responsibility to put the efforts as often as it is needed. Just like good health requires regular exercise, keeping a positively thinking mind, requires some mental exercise. Here are three things I personally do to keep myself on the Positive Thinking track:
Read Books On Developing Positive Mental Attitude
Books are our best friends when it comes to learning and developing positive thinking, I truly believe. I read books because they empower me every time I read. There are so many incredible books to read from and as of writing this post, I am reading Doing What Must Be Done by Chad Hymas. I got this book on a recommendation from my coach, but now I am super excited about what I am learning from this incredible book!
However, if you are planning to develop the habit of reading, here are a few books I would highly encourage you to start with:
Associate With Positive Thinking People – Disassociate From Negative
Disassociating from negative people and negative environments, refraining from getting into gossip helps a lot.
Associating with uplifting and positive people are even more important. The knowledge that comes from books needs application, associating with right set of people gives you that environment. Positive environment empowers us with the support, the encouragement and the push we need to become better human beings. Try for yourself and you will love it.
Use The Power Of Spoken Words
Your tongue is the best input device for your mind. You can use it to create your future or destroy it. [tweet this]
The words we speak, we hear them first and what our subconscious mind hears more, it starts to work to manifest. The law of attraction says, what you think about the most becomes your reality.
Using the same principle, we can program our minds to think positive to manifest positive things in our lives. Using positive affirmations, doing self talk everyday has proven to be one of the most effective ways to manifest happiness and success in abundance for millions of people who continue to practice this principles everyday.
Your Thoughts?
While these are some of the things I love to do to keep myself on track, I would be curious to know your perspective on Positive Thinking. Would you share some of your thoughts in the comments?