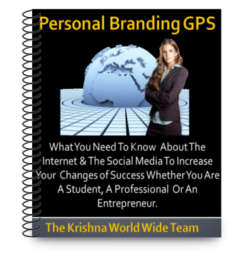 The subject of Personal Branding is no more a new phenomena. Everybody knows and everybody is doing it. It is more critical today than ever to your success as the world is getting much more competitive and noisy today than ever. But the question is, Are you doing it for you?
Whether you are in school looking out to grab your dream job or you are employed already the personal branding is of absolute importance to your career. And… If you are an entrepreneur, you need branding like nobody else.
Here is a very well presented 2.46 minute video that talks about the importance of personal branding for job. I believe this video will challenge you to think even if you aren't looking for job. It is worth giving your 3 minutes!
[media url="http://www.youtube.com/watch?v=0_CL0sPyzaI" width="570″ height = 350]
Interestingly, there are so many people on Facebook, Twitter, Google Plus and all over the web who are actually damaging their reputation by posting inappropriate content, spamming people with their product and services offerings. They actually think, that is how things are supposed to work. Many of them do it because they don't know what should be done, how it should be done and what is a NO NO on the internet.
I have written articles in the past on social media and personal branding before, but now, I am pleased to offer my e-Book on Personal Branding on this blog to my readers starting today. The information shared in this book is valued at $19.99 in the marketplace.
[note background="#FFCC00″] This eBook is not being offered on this website at the moment. I have taken this book down for making enhancements.
The subscription bonus currently on offer is the FREE Email Course To Setup Your Professional Quality Website. Grab the course before I start charging for this amazing course!
If you need this book, please email me and I will get you a copy by email. [/note]
But I am giving away this Personal Branding GPS eBook for absolutely FREE.
All you need to do is, fill out the form on the right side in the subscription box and get the download link to this book in the email.
I hope you enjoy the information shared and it helps you in building and continuously improving your reputation, your online brand image.
Your Turn:
I would like to know what you liked the most in the book. Would you like to provide some suggestions on what else would you like to see in the next book on this subject?
Please leave your feedback in the comments section.
If you have a detailed review and would to send an emai, please send me an email or through Contact page.